UK economic growth confirmed at 0.7%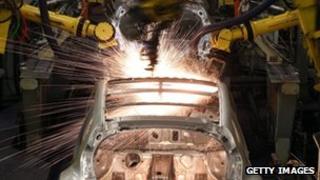 The UK economy grew by 0.7% in the second quarter of the year, official figures have confirmed.
Bright spots included the construction and industrial sectors, which expanded at their fastest pace for three years.
However, the pace of consumer spending was revised down, and business investment fell.
The Office for National Statistics (ONS) also revised up the growth rate for the first quarter of the year to 0.4% from 0.3%.
'Gaining momentum'
Other changes saw the growth estimates for the third and fourth quarters of 2012 revised down, and the ONS said the UK's economy grew by 0.1% during 2012 as a whole, down from its previous estimate of 0.2%.
However, analysts expect the economy to continue to strengthen this year.
"The UK economic recovery gained momentum in the second quarter, and a further acceleration of growth looks likely in the third quarter in what's looking like an increasingly broad-based and sustainable looking upturn," said Chris Williamson, chief economist at research firm Markit,.
"With PMI surveys hitting record highs in recent months, GDP is likely to have risen by at least 1.0% in the three months to September."
The positive industrial numbers were also welcomed by Lee Hopley, chief economist at the manufacturers' association the EEF.
"With industry surveys also on the up, the prospects for the remainder of this year look better than we've seen for a number of years," she said.
'Potholed' road?
However, the ONS revised its estimates for business investment downwards, to a fall of 2.7% in the quarter from the previous estimate of 0.9% growth.
"This again highlights the rebalancing challenge for the UK economy," Ms Hopley said.
The ONS also cut its estimate of consumer spending growth to 0.3% from an earlier estimate of 0.4%.
David Tinsley, UK economist at BNP Paribas, said there were some disappointments in the data, including the net trade position which had been affected by weak exports of services.
"The road to recovery continues to look potholed," he said.