How gadget accessory-makers must battle for orders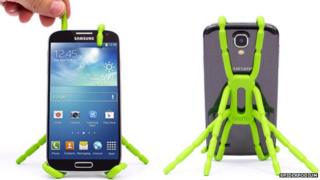 Maybe you are thinking of upgrading your smartphone to the iPhone 5S or the 5C, or you have your eye on the new Samsung smartwatch.
If so, spare a thought for the legions of often small, young, entrepreneurial companies that will want to sell you a case, a bag, fancy headphones, a docking device and possibly even a specially adapted pillow to go with it.
Welcome to the rough-and-tumble world of the technology accessory-makers.
It is a trade that lives or dies on having something relevant or - even better, new - to sell every time a major brand such as Apple or Samsung launches a new product.
Knomo is a good case study of the intense pressures all accessory-makers face.
Exactly match
"Crucial to being successful is that you are in the market very quickly," says Howard Harrison, founder and chief executive of the company that supplies upmarket leather cases, bags and sleeves, mainly for Apple devices.
"If you delay even three or four weeks to launch an accessory after the device has been launched… most of the retailers will have gone elsewhere to find other options," Mr Harrison says.
The comment particularly applies to the part of Knomo's business focused on "form-fitted" products: goods designed to exactly match a particular model of gadget.
"More than 50% of the business for a form-fitted accessory is done within three months of a product being launched," Mr Harrison says.
With a selling season this short, Knomo needs to make sure its accessories are designed, made and procured in bulk well ahead of the product launch to which they are linked.
That is no easy task given the secrecy that surrounds the launch plans of Apple, and to a lesser extent the other big tech brands.
High-stakes game
Knomo must create accessories to match products it has not seen, sometimes before it knows for sure that they even exist.
It is a high-stakes game in which big bets are made.
The nightmare scenario is producing a form-fitted leather case where, say, the hole for the headphones or the space for the volume control is too small or in the wrong place.
Knomo goes to great lengths to make sure it is not caught out.
"We get our information from 20 to 30 different sources," Mr Harrison says. "We use all the intelligence we can possibly gather."
Sources include continuously checking the latest rumours on technology websites, as well as conversations with the company's suppliers and distributors around the world.
Mr Harrison will not be drawn on whether Knomo has informants at the factories of Chinese suppliers to the big technology brands.
So far, he says, the company has only got it wrong once and then not very seriously.
Knomo seems to be flourishing despite the pressures.
It began as "one man in a room", as Mr Harrison puts it, nine years ago.
Now the company has an annual turnover of £10m ($16m) and employs 25 people, with its main office in a trendy part of the West End of London and sales in 35 countries.
'Made in Britain'
Breffo, another small technology accessory-maker based in the UK, also has to cope with the uncertainties of the major brands' launch cycles.
Its solution is unusual in an industry where it is almost taken for granted that products will be manufactured in China or elsewhere in Asia.
Everything Breffo sells is made in Britain.
Patrick Mathews, its founder and managing director, says it is quicker and more flexible to manufacture near home and it gives him much more control.
He also argues that the costs are much the same because the manufacturing process he uses is highly automated.
"If there's any labour in the manufacturing process, you get the costs associated with it," he says.
"However, in automated production there's no additional cost [from making things in the UK]. As a result, we're able to beat the prices offered in China."
The company was founded in 2010 and now has a turnover of £1m ($1.6m), with offices in Britain and the US.
Its main product is the Spiderpodium, an ingenious device designed to grip and hold a smartphone or tablet to any kind of surface.
It has eight legs made of flexible steel coated with rubber.
Sold well
Mr Mathews came up with the idea during a long flight.
The in-flight entertainment system was broken, so he watched a movie on his iPhone and found it uncomfortable having to hold the handset in front of his face for several hours.
The Spiderpodium, which now comes in several sizes, was born from his irritation at not being able to fix his phone to the back of the seat in front of him.
The product has sold well, but that has brought its own difficulties.
Mr Mathews says he is aware of several factories in China that churn out poor-quality imitations of his products and sell them pretending to be Breffo.
That is a problem because it loses him sales.
Counterfeit goods
But more seriously, perhaps, it threatens to undermine the image of the brand.
Customers and suppliers often do not realise they are being sold counterfeit goods, he says, so the blame for any defects ends up at his door.
Mr Mathews says he is frustrated by seeing complaints about Breffo appearing on review websites that are entirely due to the shoddy workmanship of fake products being sold under his brand name.
On one occasion he challenged a Chinese company, which he believed was misusing his brand name.
It advised him to get in touch with its UK operation.
The contact it gave him, he says, was his own address.
Being in the technology accessories business, it seems, is not a ticket to an easy life.