PPI complaint handling questioned by FCA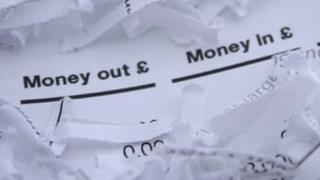 Spot-checks by the City regulator into the way PPI complaints are handled have found "significant issues" among two-thirds of financial firms visited.
One operator has been referred for enforcement action. Others face further questions following the review by the Financial Conduct Authority (FCA).
Smaller banks, building societies, credit card providers and personal loan companies were visited by the FCA.
People who have wrongly missed out on compensation will be refunded.
PPI - or payment protection insurance - policies are supposed to repay people's loans if their income drops because they fall ill or lose their jobs.
Some people have benefited from the policies, but many were unaware they were even paying for it. Others did not need it or would have been unable to make a claim.
Thousands of people have already been compensated after being mis-sold the policies, and now a huge industry has built up around sorting all the claims that can be made.
FCA director of supervision Clive Adamson said: "We expect firms to deliver fair outcomes to PPI complainants. In our review, we found that some firms are doing this while it is clear others still have some way to go."
The firms covered by the latest review have so far paid £1.1bn in compensation. This is a relatively small fraction of the nearly £12bn in total redress issued to consumers so far.
The FCA disagreed with 59% of their rejected PPI claims decisions and had concerns with the redress offered in 43% of cases when complaints were upheld.