Foreign investors own more than half UK shares, ONS says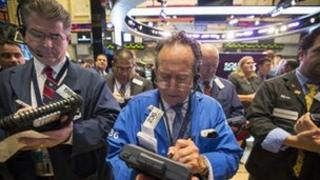 For the first time foreign investors now own more than half of UK-listed shares, according to the Office for National Statistics (ONS).
It says more than half (53.2%) of UK shares were held in 2012 by investors outside the UK, up from 43.4% in 2010.
The ONS' record of the ownership of UK-quoted shares shows the number of foreign share owners has been increasing steadily since the 1980s.
Many are North American, who account for 48.3% of overseas investors.
European investors own 25.8% of foreign-held shares.
The total value of listed shares on UK stock markets in 2012 was £1,756.3bn, up just 0.2% from 2010.
Individual UK shareholders held 10.7% of the total, up from a record low two years ago of 10.2%.
The percentage held by unit trusts, which are funds managed on behalf of groups of investors, also rose to 9.6% from 8.8%.
However, UK pension funds saw their holdings drop to 4.7%, from 5.6% in 2010