Tokyo Electron shares jump on Applied Materials merger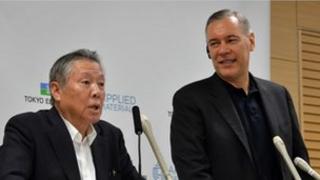 Shares in Tokyo Electron have jumped 13% following the news of its planned multi-billion dollar merger with US-based Applied Materials.
The deal combines the world's largest and third-largest makers of chip-making equipment in a new $29bn (£18bn) firm.
Subject to regulatory approval, the deal will be finalised next year.
Tokyo Electron's stock jumped 13.2% on Japan's Nikkei stock exchange, while the US firm's shares rose by about 9% on Wall Street on Tuesday.
It is hoped that the new combined company will be able to cut costs, while at the same time taking advantage of the growing demand for chips in mobile devices.
The merger will see Applied Materials shareholders own about 68% of the new company, while 32% will go to Tokyo Electron stockholders.
The new firm will have headquarters in both Santa Clara, California, and Tokyo, and be incorporated in the Netherlands.
Both companies manufacture tools that make semiconductors and display panels.
Among their customers are US-based chip firm Intel and South Korea's Samsung.