Fonterra posts 18% jump in profit despite drought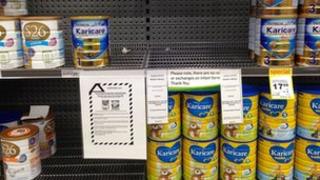 New Zealand's Fonterra has posted an 18% jump in earnings, despite a drought which led to lower milk production.
The world's biggest dairy company made a net profit of 736m New Zealand dollars ($608m; £360m) for the year to 31 July.
Demand from Asia, Africa and Middle East helped offset weakness in New Zealand and Australia.
Fonterra also said it was going ahead with expansion plans in China, despite a recent safety scare.
"We reviewed our plans after the crisis. We reviewed whether we should delay it, and we said 'No', so it's full steam ahead," Theo Spierings, chief executive of the firm was quoted as saying by the Reuters news agency.
Fonterra was hurt by a botulism scare in August this year after it said that some of its products were contaminated by a dirty pipe at one of its processing plants.
That triggered a safety recall and import bans from some countries, including China.
However, New Zealand's Ministry for Primary Industries said later that tests suggested that products at the centre of the contamination scare did not contain botulism-causing bacteria.
Fonterra said that it had conducted investigations into the contamination, and was implementing recommendations made by the review to improve quality control.
"Fonterra cannot, and will not, take risks with food safety and the health of the consumers," said John Wilson, chairman of Fonterra.
However, the company did not say if the recall would affect its earnings in the current financial year.