Smithfield shareholders approve buyout by China's Shuanghui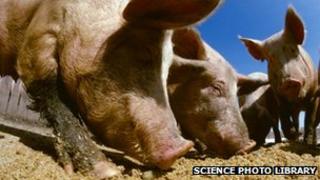 Shareholders of US pork producer Smithfield Foods have approved a buyout by Chinese firm Shuanghui International for $4.7bn (£3.1bn) in cash.
It is the largest takeover of a US company by a Chinese firm, and comes amid growing demand for foreign food products in the country.
A series of Chinese food scares has led to rising demand for overseas produce.
China, home to the world's largest population, is also the biggest consumer of pork in the world.
Smithfield, which owns the Farmland, Armour and Healthy Ones brands, said the deal will allow the firm to expand the sale of its brands abroad.
"The partnership is all about growth, and about doing more business at home and abroad," Larry Pope, chief executive officer of Smithfield, said in a statement.
Shuanghui International agreed to pay cash for the Virginia-based Smithfield Foods, in a deal which, including debt, values the firm at $7.1bn.
US regulators had approved the deal earlier this month.