Burger King launches lower-fat chips called Satisfries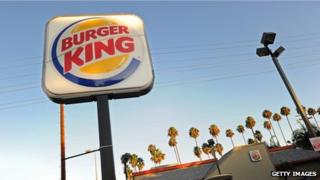 Burger King is introducing lower-fat chips, as pressure mounts in the US on food firms to help tackle obesity.
Called Satisfries, the chips, or French fries, contain 40% less fat than those sold by McDonalds, Burger King says.
The chips go on sale in the US on Tuesday and will be more expensive than regular fries.
Last week, at a White House meeting, Michelle Obama urged executives from the food and TV industries to encourage kids to eat more healthy food.
In a speech to company executives and advocacy groups, the First Lady said: "We need you to lead the way in creating demand for healthy foods, so that kids actually start pestering us for those foods in the grocery store."
More than one third of Americans are obese, according to the Organisation for Economic Co-operation and Development.
Health activists and consumer groups are pressing the food industry to tackle the problem.
Last year, New York City approved the first US ban on large-size sugary soft drinks being sold in restaurants and other outlets. However, the ban was struck down by the courts a day before it was due to take effect in March.
Burger King has revamped its menu and made a major marketing push since being taken over by Brazilian investment firm 3G in 2010.
The fast-food chain says the new chips have a crinkle-cut appearance to avoid confusion with regular chips.
It has developed the Satisfries along with McCain Foods, which will not be able to sell them to rivals.