Consumer appetite for credit grows, BBA figures suggest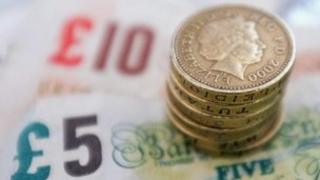 Consumers hinted at a greater appetite for borrowing through mortgages, loans and credit cards in the summer, figures have suggested.
Household borrowing on unsecured credit rose by £76m in August - the first increase in four years, the British Bankers' Association (BBA) said.
Borrowers took a safety-first approach during the financial crisis, generally paying back more than new borrowing.
But the BBA said that consumer confidence was now "growing".
'Improving confidence'
The banking body said that there was £8.4bn of new spending on credit cards in August. This was higher than the average of the previous six months of £7.8bn.
Meanwhile, the total amount still owed on credit cards continues to grow, reaching a record high of £38.7bn.
The BBA said that repayments still outstripped new borrowing on loans and overdrafts, but at a slower rate than previously. The BBA also noted that there was a greater choice of products on offer for consumers.
"Demand for unsecured credit is starting to increase due to improving consumer confidence and more competitive offers available," said David Dooks, BBA statistics director.
Mortgage pick-up
The figures also show that mortgage approvals for house purchases were at a four-year high in August.
The BBA said that government schemes to kick-start the housing market were assisting first-time buyers to get on the ladder and also speeding up housing chains.
The number of home loans approved for house purchases by the major High Street banks stood at 38,228 in August, the BBA said. This was a 2.1% rise from the previous month and a sign that housing market activity continued to rise.
Sales remain well below levels seen during the housing boom. Data from HM Revenue and Customs shows that the number of sales of UK properties did rise by 19% in August compared with the same month a year earlier to 89,460, on a seasonally adjusted basis.
Yet this was still more than 50,000 fewer sales than August 2007, during the peak of housing market.
Relatively cheap mortgage deals have led to a rise in the number of homeowners remortgaging, the BBA said. The number of approvals for remortgaging stood at 22,665 in August, up by 4% on the previous month.
"The feelgood factor is back for growing numbers of consumers," said Colin Levins, chief executive of finance provider Platform Black.
"Increased mortgage and credit card borrowing are a clear indication of returning confidence, and should help fire a demand-driven recovery. But any celebration of the consumer credit market's return to health is tainted by the continued fall in lending to business."
The BBA said that, annually, business loans were being repaid at a faster rate than new borrowing from the High Street banks.