Are chancellor and governor as one on housing?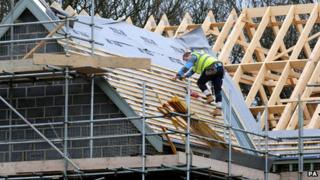 Here is something I may or may not have mentioned before (brain like sieve, can't remember).
The chancellor believes he got the thumbs up (in private) for his ambitious mortgage-guarantee scheme, Help to Buy, from the newish Canadian governor of the Bank of England, Mark Carney.
More pertinently, George Osborne would not have pushed ahead with the plan, designed to support the provision of £130bn of new mortgages over three years, in the absence of an understanding that Carney is friend not foe on this one (or so Osborne's allies told me when he unveiled the scheme, months ago).
"Why should anyone give a stuff?" you may muse.
Well, with the UK's housing market recovering strongly in parts (London booming, North East England and Scotland still sinking), there are some who believe Osborne should think again about protecting homebuyers and banks from three quarters of the first 20% of losses on mortgages up to £570,000.
There are fears that an un-amended Help to Buy would pump up a new housing bubble, or perhaps a series of regional mini-bubbles, and will do little to stimulate the supply of new houses (although to be pedantic for a second, what we are talking up here is Help to Buy 2, launching in the new year, as opposed to Help to Buy 1, which already exists and has ushered in bumper times for house builders).
To be clear, Osborne ain't turning back on this before its official launch in January. Or so he said to me when I interviewed him last week.
Which is why I was intrigued to be told by a colleague of Carney that the governor doesn't believe he has (in fact) underwritten the chancellor's housing market support scheme at all - and that perhaps the biggest challenge facing Carney is how to signal his distance to the world, without embarrassing and alienating his patron, George Osborne.
Now to be clear, we are in the realms here both of practical policy - how to stimulate the more general economic recovery through reviving the housing market - and of fiscal religion.
Recall please what I've mentioned a few times, that the official Treasury - the putative technocrats, not the special advisers - have a horror of Help to Buy, largely because they see it as official support, to the tune of a £12bn contingent liability for potential losses, for a market that is far too prone to bubbles to require any such de facto subsidies (and see here for more on this).
So if the civil servants don't like Help to Buy, who on earth gave birth to it? Well it was the political Treasury, the special advisers, or Spads.
Which doesn't mean that it's bad economics. It is certainly plausible - and in keeping with tradition - that the career bureaucrats of the Treasury are being too fastidiously conservative.
But it would be nerve-wracking for Osborne to press ahead with perhaps his most ambitious economic initiative in the face of scepticism from the entire technocratic class, whether housed in SW1 (HM Treasury) or in EC2 (the Bank) - and you might be surprised how rare it is for the residents of SW1 and EC2 to sing from the same ideological hymn sheet.
Against that background, I will (in one of my more obsessive guises) be making a close textual analysis of the first statement from the Bank of England's Financial Policy Committee since Carney's accession - which is due on Wednesday.
If it raises a note of concern about an incipient housing bubble, that will be seen as a warning to Osborne to exercise due care in his stimulus for housing transactions. And if the Bank of England comes over all trappist about conditions in the homes market, questions would then be raised about whether the Bank is as self-confidently impartial as it is supposed to be.
More than any Bank governor of my lifetime, Carney is a brilliant politician. He will need all his political skills to navigate around these rocks.