BP court move to halt Gulf payouts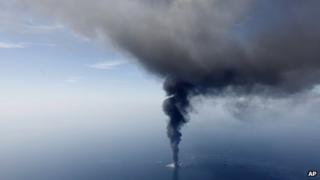 Oil giant BP has asked a US court to halt payments from its settlement deal over the 2010 Gulf of Mexico oil spill amid concerns about fraud control.
The blast killed 11 workers and released an estimated four million barrels of oil into the gulf.
It is the firm's latest move to stop or delay payments under a financial settlement programme.
It had expected payouts to total $7.8bn (£4.9bn), but says this has been driven up by excessive fees and bogus claims.
BP has faced about $42.4bn in charges since the disaster aboard the Deepwater Horizon drilling rig, which triggered the worst offshore oil spill in US history.
It has made two previous, unsuccessful attempts, to halt compensation payments.
It now says all payments should be halted until the court-appointed claims administrator puts efficiency and accounting controls into place.
"There is no assurance that dishonest and illegitimate claims are being detected and denied," said BP spokesman Geoff Morrell.
"Payment of such claims would cause BP irreparable injury."
The company believes the existing payout formula is too generous and compensates people who were not harmed.
It is waiting for decisions by a federal appeals court on several challenges it has made to the settlement and its payment formula.
BP says there is a risk that hundreds of millions of dollars in claims payments could be fraudulent.