Apple sells 9 million of its new iPhone models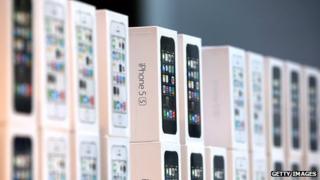 Apple has sold nine million of its new iPhone models in three days.
The company said that sales of the iPhone 5S and 5C had beaten previous launches of new phones.
Apple said demand for the 5S had outstripped supply and Apple shares rose almost 6% on the news before falling back to trade 4% higher.
The 5S has a fingerprint sensor built into the phone's main button. The cheaper 5C comes with a plastic back in a choice of colours.
In a statement Tim Cook, Apple's chief executive said: "The demand for the new iPhones has been incredible, and while we've sold out of our initial supply of iPhone 5S, stores continue to receive new iPhone shipments regularly.
"We appreciate everyone's patience and are working hard to build enough new iPhones for everyone."
'Get into line'
Analysts said that while the sales were strong, Apple had made an effort to ensure that the opening weekend was a success.
"Apple was concerned about the public relations angle of a soft first weekend, so they took some steps to strengthen the numbers," telecom analyst Jeff Kagan said in an email.
"Traditionally users could pre-order devices. Not this year.
"This year anyone who wanted a new iPhone must get into line. That bolstered the lines and strengthened [the] opening weekend from a PR perspective. This upset users, but made for great numbers," he said.
In a notification to market regulators Apple said it expected sales in its fourth quarter to be at the higher end of its previous announced range of between $34bn and $37bn.
It also forecast that its gross profit margin would be near the high end of the previously provided range of 36-37%.
"Despite the pessimism from many commentators over the last few days this is a ringing endorsement of the ongoing appeal of the iPhone to consumers on the street," said Ben Wood from the tech consultancy CCS Insight.
However, there is definitely no room for complacency and Apple most definitely can't stand still when it comes to future product releases."