Building societies are healthy, KPMG says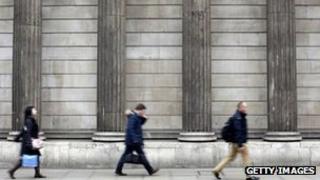 The UK's mutual sector is "well placed" to benefit from a recovering economy and rising demand for mortgage loans, according to the accountancy firm KPMG.
In its assessment of the financial health of the UK's building societies, KPMG said that 35 out of 46 saw their assets grow in 2012.
The report added that borrowers should see benefits from this.
But it warned that savers were "unlikely" to see rates improving any time soon.
KPMG said that assets for the sector fell by £2.1bn in 2012, but that this was in large part due to the assets of Nationwide building society, the sector's biggest player.
If Nationwide was excluded from the findings, the UK's building societies would have grown their combined assets by 2.8% to £122.6bn, KPMG said.
Nationwide said that its assets were reduced in 2012 owing to a relaxation of liquidity rules.
In June, the Bank of England's Prudential Regulation Authority suggested that the Nationwide should have a 3% ratio of capital to gross assets, which would mean it needed to raise new capital.
But the building society said that its recent results were strong and lending was on the rise.
Mortgage lending generally in the UK has grown slightly in the last year.
But Simon Walker, partner in KPMG's Financial Services practice, said that while there was positive news for borrowers, for depositors, on whom the sector relies heavily, there was not much cheer.
"Now that banks and building societies have rebuilt their funding, competition for retail funding has fallen and savers' rates with it," he said.
"The impact of the Funding for Lending Scheme has exacerbated this. The likelihood of savings rates improving in the near future is very low," he said.