Ryanair's O'Leary to end 'abrupt culture'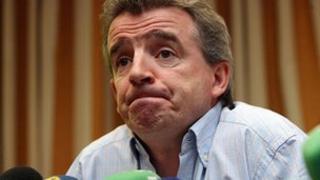 Ryanair is to reform its "abrupt culture", chief executive Michael O'Leary says.
Speaking to shareholders at its annual general meeting, Mr O'Leary said: "We should try to eliminate things that unnecessarily" annoy customers.
Europe's biggest budget airline warned earlier this month that profits for the year may miss forecasts.
Mr O'Leary was responding to shareholder concerns that customer service issues were hitting sales.
Ryanair was this week voted the worst of Britain's 100 biggest brands by readers of consumer magazine Which?
'Macho culture'
Speaking about regular complaints, such as customers being fined for hand luggage that exceeds size limits by a fraction, he said: "A lot of those customer services elements don't cost a lot of money," adding that he would address this over the next year.
At the start of September, Ryanair said that profits may miss or be at the lower end of its range of 570m euros to 600m euros (£480m to £508m).
The airline said there had been a dip in ticket prices and booking levels for September, October and November.
Mr O'Leary told shareholders at the Dublin meeting that Ryanair was to set up a new team to respond to complaint emails, and revamp its website.
"I am very happy to take the blame or responsibility if we have a macho or abrupt culture. Some of that may well be my own personal character deformities," he said.
On Friday morning, Ireland's Daily Mail detailed how Ryanair had charged a customer 188 euros (£160) to change his flight after his family had died in a fire.
Dr Muhammad Taufiq Al Sattar told the newspaper that he broke down in tears as he tried to explain to staff at Dublin airport why he needed to change to an earlier flight to Birmingham.
In a statement, the airline said: "Ryanair offers its sincere condolences to Dr Sattar and confirmed that in the circumstances it will provide a full refund of any monies paid last Friday."