Archbishop Welby warns about 'large-scale' rent arrears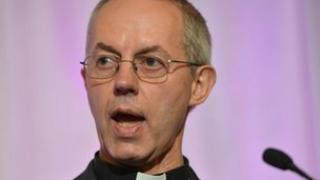 The Archbishop of Canterbury, Justin Welby, has warned about the possibility of "large-scale" and "growing" rent arrears.
In a speech in Birmingham, he also said that "vast increases in fuel costs" were squeezing people's incomes.
The Archbishop was speaking at the annual conference of the National Housing Federation (NHF).
Earlier this week, the NHF said that more than half of council tenants had been unable to keep up with their rent.
It blamed the changes in housing benefit, described by the government as the end to the spare room subsidy, and by critics as "the bedroom tax".
Justin Welby said that, when adding together the changes in housing benefit, higher energy costs and short-term loan costs, "suddenly the possibility of growing and large-scale arrears becomes very serious".
"And a sense, more seriously, of instability for people in already tough places becomes more and more real," he added.
But the Archbishop went out of his way not to be critical of the government's welfare changes, most of which began in April.
"The principles of the changes have been carefully thought through over much time, and I am not making a party political point.
But the realities of delivery are hugely challenging," he told his audience.
Changes
Archbishop Welby has previously been critical of the government's welfare changes.
In March this year he backed a newspaper letter from Anglican bishops, who argued against the 1% cap on annual increases in most benefit payments.
The bishops claimed the new limit could push 200,000 children into poverty.
As part of its conference, the NHF also released the results of a survey, suggesting that most people were opposed to the changes in the housing benefit rules.
The poll of 2,000 adults revealed that 59% would like the government to reverse the changes.
Under the new rules, any tenant with a spare bedroom loses 14% of their housing benefit, typically amounting to between £14 and £16 a week.
Anyone with two spare bedrooms loses 25% of their benefit.
But the government has always insisted that the changes were fair and necessary.
It has forecast that taxpayers will save £1bn in the first two years of the new rules.
In July 2013, Justin Welby also spoke out on secular matters, by saying that he wanted to compete payday lenders like Wonga out of business.