Stores 'fixed sports bra prices'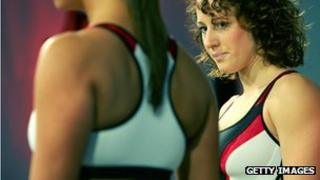 The Office of Fair Trading (OFT) has accused three major department stores of colluding with a manufacturer to fix the price of sports bras.
The agency said Debenhams, John Lewis and House of Fraser agreed to set the prices of the Shock Absorber range of bras, made by DB Apparel UK.
The anti-competitive agreements were made from 2008 to 2011, the OFT said.
DB Apparel rejected the OFT allegations while the retailers said they were confident they had not broken the law.
"We have been transparent with UK authorities since the beginning of this process and will continue to defend ourselves vigorously in this investigation," a DB Apparel spokesperson said.
At the time covered by the investigation, the Shock Absorber range accounted for 15% of the sports bra market.
The alleged agreements applied on a nationwide basis to a number of products within the Shock Absorber range, the OFT said.
The manufacturer and department stores are accused of retail price maintenance - where the supplier specifies a price for their product, and the retailer agrees to it.
'Fully cooperating'
A House of Fraser spokesperson said: "We are co-operating fully with the Office of Fair Trading and the ongoing investigation and will respond accordingly."
"We are confident that we have been operating within all laws and regulations and are very supportive of any initiative which ensures pricing policies are fair for our customers."
A John Lewis spokesperson said: "John Lewis always strives to operate within the law and comply with regulations. We are fully cooperating with the OFT and will respond in due course."
A Debenhams spokesperson said: "Debenhams plc disputes these provisional findings of the OFT but is not in a position to comment further at this stage. The matter is being dealt with by its external lawyers."
The OFT said the agreements had the aim of increasing the prices of Shock Absorber bras in each of the three department stores.
"The OFT takes allegations of price-fixing seriously," said Ann Pope, senior director of services, infrastructure and public markets at the OFT.
"Resale price maintenance limits competition between retailers and can lead to consumers paying higher price.
"No assumption should be made at this stage that there has been an infringement of competition law. We will carefully consider the parties' representations... before deciding whether competition law has in fact been infringed."