Estate agent Foxtons valued at £649m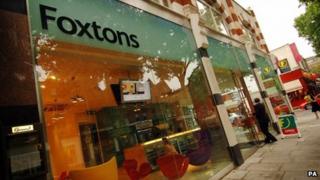 London estate agent Foxtons has been valued at £649m ahead of its full stock market listing, due to take place next week.
Shares in the company were priced at £2.30 each ahead of the market opening.
Foxtons announced plans to float last month in order to raise funds and capitalise on the recovery in the property market.
It was bought by private equity firm BC Partners at the height of the property boom in 2007 for £360m.
The valuation suggests BC Partners' investment has almost doubled in value since then.
Foxtons suffered losses during the recession, but has since returned to profitability.
On Friday, shares were up more than 20% in conditional trading, taking place before Foxton's official admission to the stock exchange due on Wednesday, giving the firm a market value of £788m.
BC Partners and other selling shareholders will get £335m from the sale, while a further £55m raised will be used to pay off company debts.
The shares floated represent 60% of the company, but BC Partners did not disclose how big a stake it had retained and how many were held by other minority shareholders.
The success of the share sale reflected strong demand among investors for businesses exposed to the UK property market.
Many investors expect property prices to rise significantly as the UK economy recovers over the coming years.
Foxtons said it was well-positioned to benefit from a recovery in property sales.
It has 40 branches in London, and a further two in Surrey.
The property market in the capital has recovered faster from the recession than other parts of the country.
Figures from the Land Registry released last month showed that London property prices rose by 6.9% in the 12 months to June, compared with an average of 0.8% for England and Wales.