Singapore Air, Tata plan to set up new Indian carrier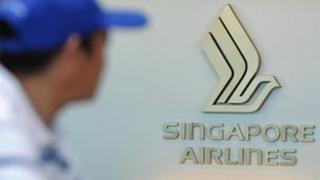 Indian conglomerate Tata Group and Singapore Airlines plan to set up a new full-service airline in India, nearly 15 years after their last attempt failed.
The two companies plan to initially invest $100m (£62m) in the new airline. Tata will own 51% and Singapore Airlines will own the rest.
However, the move comes just nine months after Tata agreed to a similar venture with Malaysian budget carrier AirAsia.
India's aviation industry, which has suffered major losses, was opened to foreign investment last year.
The government now allows foreign firms to own up to 49% of a local airline, which has spurred a spate of deal-making in the sector.
India's government forecasts the domestic air travel will nearly triple this decade as airlines connect its smaller cities.
However, India's airlines industry, while competitive, has been mired in losses because of high fuel costs and intense price competition.
Only one of India's six main carriers - IndiGo - made a profit last year.