Greek finance minister sees signs of economic recovery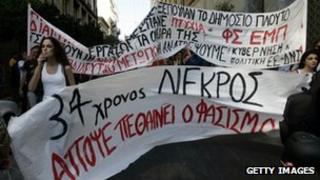 The Greek finance minister has said his country's economy is heading "slowly towards recovery" after it saw growth in the second quarter of the year.
Yannis Stournaras said available evidence suggested Greece will see quarter-on-quarter growth for the first time since its economic crisis began.
But he stopped short of saying Greece was out of its six-year recession.
Mr Stournaras said that, overall, he expected the Greek economy to shrink by up to 3.8% this year.
That is more optimistic than the 4.2% contraction forecast by Greece's international lenders, and a significant improvement on 2012, when the economy shrank by 6.4%.
The finance ministers comments, at a conference in Athens, reflected signs of optimism among economists around the Greek economy.
Tourism is picking up, leading to a rise in seasonal employment. Manufacturing is also showing some signs of recovery, while retail sales continue to decline, but at a slower pace than previously.
However, analysts remain cautious.
The economy remains in trouble as it continues to struggle from the after-effects of a sovereign debt crisis and austerity measures imposed as conditions on a series of international bailouts.
The unemployment rate stands at a record of almost 28%, and threats of further job cuts have led to strikes and civil unrest, that economists worry could jeopardise further economic recovery.
More bailouts may also be needed.
So far, Greece has received 240bn euros (£206bn) in loans from the "troika" of international lenders - the European Commission, European Central Bank and the International Monetary Fund.
Last month, Mr Stournaras acknowledged that it may need a further bailout in the region of 10bn euros.