Manchester United reports record revenues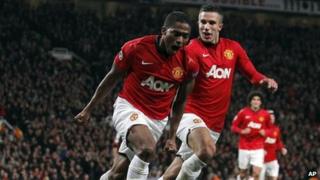 Premier League champions Manchester United have reported record revenues of £363m for the 12 months to June.
The club, controlled by the Glazer family, saw a big rise in commercial revenues driven by sponsorship deals, as well as merchandising and product licensing.
It made a net profit of £146m.
The figures are the first released by United since David Moyes took over as manager following the retirement of Sir Alex Ferguson last season.
The club transformed into one of football's global financial powerhouses during his reign, and was floated on the New York Stock Exchange last year.
Ed Woodward, Manchester United's executive vice chairman, said: "We are very proud of our results. Our commercial business continues to be a very powerful engine of growth enabling the team to continue to be successful.
Player costs
"We won our 20th English League title last season and are delighted to have David Moyes lead our football team into a new and exciting chapter. We look forward to a successful 2013-14, both on and off the pitch."
Over the last financial year, United signed a number of sponsorship deals that boosted commercial revenues by 30%.
They included a deal with US carmaker Chevrolet, which will become the club's shirt sponsor next season.
Commercial revenues now account for £153m - 42% of the clubs total income.
The rest comes from television rights, worth £102m, and match-day revenues which totalled £109m.
About half of all the money brought in was spent on staffing costs, however. This included paying for new players and increased wages and bonuses for current players.
The club also hired more people to help with its commercial expansion.
It also reported costs of £6.2m related to "exceptional items", which included the cost of paying off former coaching staff who left as a result of Sir Alex's departure.
Manchester United have seen a steady start to their season under new manager David Moyes, winning two of their four opening Premier League matches and their first group game in the Champions League.
Richard Hunter, head of equities at Hargreaves Lansdown Stockbrokers, said the on-field success of the club last season, was reflected in its financial results.
"Apart from the kudos and indirect income associated with winning the Premier League - not least of which is maintaining the strength of the global brand - the merchandising machine at the company's disposal is firing on all cylinders," he said.
He added that the club's forecast for next season was for further strong growth in revenues and sponsorship income, based on the assumption that they would reach the quarter finals of the domestic cup competitions and the Champions League, and finish at least third in the Premier League.