China unveils a new round of electric car subsidies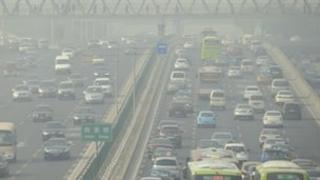 China has unveiled a new round of subsidies for fuel-efficient vehicles in a bid to combat rising air pollution in its major cities.
The government will provide up to 60,000 yuan (£6,160; $9,800) to buyers of all-electric, "near all-electric" and hydrogen vehicles until 2015.
The policy is expected to boost Chinese automakers such as as BYD, which makes electric cars and batteries.
However, the programme does not include gasoline-electric hybrid cars.
In a statement, the government said the policy was aimed at "accelerating the development of new-energy vehicles, promoting energy saving and reducing air pollution".
Electric strategy
China aims to put five million "new-energy" vehicles on the road by 2020.
According to the state-owned Xinhua news agency, there were about 27,800 new-energy vehicles being used last year, mostly buses.
China's last electric vehicle subsidy programme expired at the end of 2012, but failed to provide a large boost to electric car sales.
Analysts say the government needs to include conventional hybrid vehicles, such as Toyota's Prius model, in the subsidy programme for it to gain traction.