JP Morgan facing more regulatory scrutiny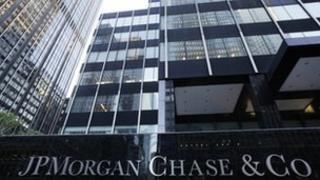 JP Morgan Chase could face further scrutiny from regulators, according to a memo sent to staff.
Referring to legal and regulatory issues, chief executive Jamie Dimon told staff in a memo that "we need to be braced for more to come".
The bank is thought to be negotiating a settlement with regulators over its handling of a $6.2bn (£3.9bn) trading loss that emerged last year.
Two of its traders have been charged with fraud in relation to that loss.
Prosecutors say they hid losses which resulted in the company misreporting its results last year.
The two men deny the charges.
In the memo, obtained by Reuters news agency, Mr Dimon stressed the company's efforts to improve its internal controls.
He says the bank has hired 4,000 staff and spent $1bn to beef up its control group, which has a range of oversight duties including monitoring trading risks, legal compliance and internal auditing.
The memo also said that JP Morgan was disposing of businesses that were no longer considered central.
Mr Dimon said that was why it had stopped selling identity theft protection and credit insurance.