Did we spend the summer spending?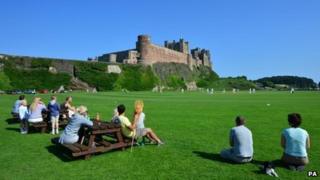 Put your umbrella down, pour yourself a hot drink, take a seat and remember the summer of 2013.
It was the UK's ninth warmest since comparable data collection began in 1910. It was also one of the sunniest on record.
So, how did we react to those sun-kissed, sweltering days - by sinking into a deckchair, heading out on a day trip, or shopping on the High Street?
Some of the answers to that question were delivered in official data recording the cost of living, which was published on Tuesday.
Autumn collections
One of the most striking statistics was the 18% rise in the cost of electric fans in August compared with a year earlier.
Contrast that with the price tags in clothes shops which rose at a slower rate than a year ago, according to the Office for National Statistics (ONS).
"With clothing and footwear, we always see prices go up in August, with the start of the autumn lines coming in," says Richard Campbell, from the ONS.
"This year, we have had a warmer summer so it is possible, although we can't prove it, that retailers were keeping their prices a bit higher for the summer goods."
Air fares rose at a slower rate than a year ago, and the rising cost of package holidays in August was below the general inflation rate, the ONS figures show.
It may be that people were choosing to enjoy the sunshine at home, but bear in mind that in August last year, the London 2012 Olympics were in full swing - probably pushing up the cost of domestic flights beyond normal summer levels.
Too hot?
It is, of course, too simplistic to say that people simply spent their time lounging in the garden, eating strawberries, and using their smartphones to buy electric fans to cool themselves during the sweaty summer nights.
Some people may be more inclined to head to the High Street and spend money in the shops when it is sunny, rather than when it is cold and wet. For example, in Scotland, retail sales recorded their best August performance for four years,
Shopkeepers in some areas of the UK have since reported a slow week at the start of September when the temperature dropped and youngsters went back to school.
Many believe in a Goldilocks theory - that shoppers like heading to stores when it is not too hot and not too cold.
"When it is really warm, some people choose to go shopping, but some just go to the beach," says Michael Miller, owner of Bare Necessities, an independent fashion accessories retailer in Bromley town centre, Kent.
"August was not too bad. It was better than last year, because of the Olympics, but this September has been the quietest of any in the 22 years we have been here."
He blames internet shopping, in part, as it has cut the number of impulse buys.
Days out
Nearby, a women's fashion retailer called Grantleigh 2 is having a mid-season sale, although it is not totally clear which season they are in the middle of.
Manager Sue Nunas says that she has to box clever with her stock to try to compete with the big budget retailers. That means keeping some summer shoes on display until October, when some people take half-term holidays in the sun, even though new autumn boots are the biggest sellers at the moment.
She says that many people chose their gardens and days out over shops during the hot summer. A crisp, sunny autumn or winter day brings out the buyers, in her experience.
Her theory is backed up by new figures from English Heritage reporting record visitor numbers in August. Some 1.07 million people went to the organisation's 400 historic monuments, buildings and gardens during the month.
Luke Witcomb, marketing director at English Heritage, says that the sunny weather gave people the "impetus" to get out and about.
Even so, the cost of taking the family to a castle or stately home in the sunshine had gone up. English Heritage says that prices have risen in the last year to reflect an increase in running costs.
Cost of living
The official figures show that if an average basket of goods and services cost £100 in August 2012, it would have cost £102.70 this August.
This 2.7% rise in the cost of living was higher than the 1% average rise in earnings, excluding bonuses.
This squeeze on household budgets means people are "watching their pennies", according to Jamie Lake, who has a fruit-and-veg stall in Bromley.
So, even in the steaming summer, that means people were thinking twice before reaching for another punnet of strawberries.