English house prices at record high, ONS figures show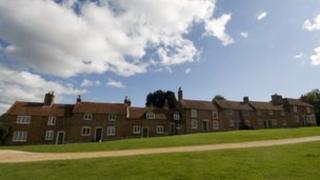 House prices in England have reached a record high, according to figures from the Office for National Statistics (ONS).
The ONS house price index for England alone is now 0.9% higher than it was at the previous peak in January 2008.
The index for the whole of the UK is just short of its peak in 2008, but very close to it.
However, large rises in London and the South East are distorting the figures for the whole country.
Prices in London rose by 9.7% over the past year, according to the ONS, and the capital is the only area in the UK where prices are rising faster than inflation.
But excluding London and the South East, prices in the rest of the UK only rose by 0.8% in the year to date, and prices are falling in Scotland, Wales and northern England.
Overall, annual house price inflation rose to 3.3% in July, up from 3.1% in the previous month.
Bubble?
A range of other statistics, including mortgage approvals and transactions, suggest that the UK is still a long way from another house price boom.
The most recent figures from the Land Registry, which records house sales in England and Wales, indicate the market is well below the peak reached in November 2007.
Howard Archer, chief UK economist at IHS Global Insight, said: "We are currently some way off any new housing bubble developing, with activity still relatively limited compared to pre-crisis levels."
However, the ONS figures suggest that UK house prices as a whole are close to the record level recorded in January 2008.
At that time, its UK house price index stood at 185.5. In July 2013, the figure had edged up to 185.0, within a whisker of its previous peak.
According to its figures, the average price of a house is now £255,000 in England, £182,000 in Scotland, £160,000 in Wales, and £132,000 in Northern Ireland.
The ONS figures are calculated on mortgage completions, as produced in the Council for Mortgage Lenders' regulated mortgage survey.
Warnings
Economists say a combination of the Funding for Lending Scheme (FLS) and the government's Help to Buy scheme are helping to fuel demand for house purchases.
Under FLS, banks and building societies are able to borrow money relatively cheaply from the Bank of England, providing they lend that money out again.
FLS is widely credited with bringing down mortgage rates since it started just over a year ago.
The Help to Buy scheme, which allows borrowers to put down a deposit of just 5% on a new house, is due to be extended in January.
That is leading some forecasters to predict that house prices will accelerate next year.
IHS Global Insight has predicted a rise of 7% across the UK in 2014.
"There is a mounting danger that house prices could really take off further out, especially as a shortage of new properties for sale could be a significant factor in some areas," said Howard Archer.
Nevertheless, Danny Alexander, the chief secretary to the Treasury, said at the weekend that the country is "a thousand miles away from a housing bubble."
The Bank of England's Financial Policy Committee (FPC) may discuss the dangers of a housing bubble, when it meets on Wednesday.
If it is concerned that house prices threaten the stability of the economy, it could force banks to rein in their lending.