Lloyds Bank privatisation begins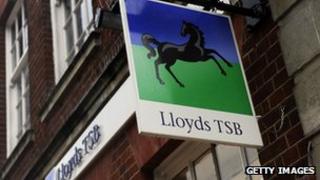 The government's sale of Lloyds Banking Group has begun, with big investors being offered 6% of the bank.
Based on Monday's closing share price, that stake would be worth £3.3bn and the deal will cut the government's stake in Lloyds to 32.7%.
Back in June, the Chancellor of the Exchequer, George Osborne, announced that the government was preparing to sell its stake.
He said that the government wanted to get a good deal for taxpayers.
Money back?
In a statement the Treasury said: "We want to get the best value for the taxpayer, maximise support for the economy and restore them to private ownership. The government will only conclude a sale if these objectives are met."
Shares in Lloyds closed at 77.36p on Monday.
That is well above the price of 61p that Chancellor George Osborne regards as the break-even level.
During Lloyds' bailout in 2008, the government bought shares at an average price of 73.6p.
The average market price at the time was 61p, so the government booked the difference as a loss and added it to the national debt.
BBC business editor Robert Peston says that based on Monday's share price, the taxpayer should "more or less" get its money back.
He also said: "During the eurozone banking crisis of 2011-12, getting our money back looked an impossibility."
Back in profit
The sale of Lloyds is a big privatisation. The 6% stake is worth more than the expected market value of the entire Royal Mail, which is due to be privatised in the next few weeks.
From today big investors will be able to say how many shares they want of Lloyds and at what price. The government and its advisors will then look at those offers, decide on a price and divide up the available shares.
Lloyds recently revived the TSB brand and has transferred five million accounts to the new bank.
The new bank will be sold off next year, as part of a process ordered by the European Commission to provide greater competition.
In August, Lloyds announced profits of £2.1bn ($3.2bn) in the six months to the end of June, compared with a loss of £456m for the same period last year.
It was helped by a 43% fall in bad debts to £1.8bn, but the group had to make a further £450m charge to its accounts to cover compensation for the mis-selling of payment protection insurance (PPI).
Lloyds also reported that mortgage lending grew to £14.5bn in the first half, up from £12.3bn in the same six months last year.