Q&A: What is tapering?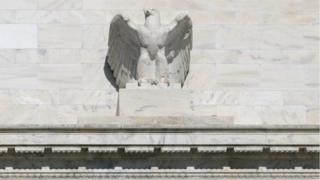 Since late 2012, the US central bank, the Federal Reserve (or simply the Fed), has been spending $85bn a month to boost the US economy.
That is the most recent phase of quantitative easing (QE), a policy that began as a response to the financial crisis that struck in 2007.
Under the plan, the Fed has been buying assets - a mixture of US government debt and mortgage bonds. This has the effect of driving down US interest rates, including the cost of mortgages, car loans and financing for business.
But on Wednesday, the Fed announced that it was scaling back - or tapering - that support to $75bn a month.
So what is tapering anyway?
It is a gradual phasing out of the Fed's bond-buying programme.
On Wednesday, we learnt that tapering is starting in January, when the Fed will reduce purchases of mortgage bonds and Treasury bonds (US government debt) by $5bn each.
That means it will buy $35bn in mortgage bonds each month and $40bn in Treasuries.
Some say it is a small, symbolic move.
"A $10bn change won't be missed. It won't impact the economy. A change this small is almost like it had done nothing at all," said Todd Schoenberger, managing partner at Landcolt Capital.
The Fed also softened the blow, though, by saying that its benchmark short-term interest rate would remain close to zero until unemployment was "well past" 6.5%.
Further tapering will depend on how the economy responds.
Why now?
The timing surprised some analysts, who thought the Fed might wait until next year to cut back its support.
Fed Chairman Ben Bernanke said he consulted closely with Fed Vice-Chair Janet Yellen on the decision.
Ms Yellen is due to succeed him when he steps down on 31 January after eight years in charge.
The decision to taper indicates that both are confident that the US economic recovery is well entrenched.
The latest data seems to support that. Economic growth picked up to an annual pace of 3.6% in the third quarter, surprising many observers.
Unemployment fell to a five-year low of 7% in November.
Some are not convinced, though. Steven Ricchiuto, chief economist at Mizuho in New York, was not expecting the Fed to make its move until next March.
"I am afraid that taking the punch bowl away before the party has a buzz will prove to be a mistake," he said.
How much has the Fed committed to QE?
The Fed has taken on much more government and mortgage-backed debt, that now sits on its balance sheet.
That balance sheet, which records the assets held by the central bank, has expanded dramatically.
Since the recession, it has increased from about $1 trillion before the crisis hit in 2007 to close to $4tn, and that is likely to expand further.
The majority of that expansion is due to the purchases made under QE.
To put those figures in context, the combined value of the three biggest US technology companies - Apple, Google and Microsoft - is a little over $1tn and the total value of the UK economy in 2013 was $2.4tn.
Unless there is a collapse in confidence in US government finances or the dollar, the extra debt owned by the Fed should not be a problem.
That is a lot of money. Did it work?
By buying mainly US government bonds and mortgage-backed debt, the Fed kept interest rates low - particularly those that matter most to US consumers, such as those for mortgages and car loans. Sales of new homes, as well as the rate of refinances, and car purchases all picked up in the wake of QE.
Low rates also succeeded in pushing investors to the stock market, away from bonds, whose low interest rates were even less than inflation. This has led to the strong returns in US markets, with the S&P 500 index on track for its best year since 1998.
The Fed itself said in March that the asset purchase programme had had a "meaningful" effect in easing financial conditions.
It estimates that the policy has boosted employment in the private sector by two million.
Were there any unintended consequences?
The Fed's main goal was to keep interest rates low in the US and boost economic activity at home.
But the policy encouraged investors to look overseas for assets that promised a better rate of return than US government debt.
Some of those funds are now returning home. In fact, volatility on emerging markets in 2013 has been blamed on the threat of tapering.
In June 2013, when Mr Bernanke made comments hinting that the taper was near, stock markets plunged, mortgage rates spiked and the rate of refinancing activity plummeted.
When the expected taper did not come in September 2013, many accused Mr Bernanke and his fellow central bankers of bungling the communications and capitulating to markets, who continue to want low interest rates.