Pet projects: How US retailers are going to the dogs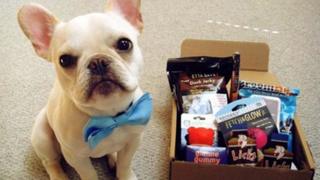 Entrepreneur Matt Meeker saw a gap in a lucrative market - the dog lover wanted to spoil his Great Dane, Hugo, but he couldn't find the right retailer to help him.
"I wanted to make this dog really happy all the time, and didn't have an outlet to do that," he says. "So we created one."
And so his company BarkBox was born.
The New York-based business creates doggie gift boxes for all sizes and breeds of canines.
Now Hugo, along with tens of thousands of other US dogs, receives regular boxes through the post that include lamb-flavoured treats, rope toys, chewable bones, and other delights.
They cost about $30 per month (£20) - an affordable price for BarkBox's affluent clients.
"What we're really trying to do is build a company that serves an audience that we think is a growing, very valuable audience," says Mr Meeker. "We call them 'dog parents' here."
Billion dollar industry
Despite America's economic struggles over the past few years, the US pet market is a lucrative one.
The American Pet Products Association estimates that owners will spend more than $55bn (£35bn) on their animals this year.
And dog owners are at the forefront of wanting to splurge on their pets. This is especially apparent on the dog show circuit.
"I don't think it's any big secret that a number of dogs - more and more of them - have probably six figures invested in them every year, in their show careers," says David Frei, director of communications at the Westminster Kennel Club in New York.
More than three million people watch the annual Westminster Kennel Club dog show, which features 3,000 canine contestants. And while the travel and handling costs associated with dog shows can seem prohibitive, for dog owners, it's a labour of love.
"Dogs really are members of our family," says Mr Frei. "And as a sport, it's fun for us to get out and have some time with our dogs, and do some things together with the dogs that we love."
That love translates into a lucrative dog salon market.
'An art'
On the Upper East Side of Manhattan, Precious Pets offers doggie day care and grooming services. For an average charge of $95 (£62), dogs get services including a bath, and a haircut of the client's choice.
Raianna Rizzo, manager of Precious Pets, calls her groomers masters of their trade, with 15 years of experience. "It really is an art," she says. "That's the reason it's so expensive."
A veterinary technician, Ms Rizzo says her customers live within walking distance of her shop.
Competition is growing, as another dog groomer gets ready to open nearby. But the demand for grooming services stays steady.
"As far as I'm concerned, it's always been a luxury," says Ms Rizzo. "There have always been people who treat their animals like their children."
Cities around the US are also seeing a proliferation in mobile groomers.
Going to the Dogs in Atlanta is a fully equipped salon on wheels, according to the owner. Susan Moore drives to her clients across the city and the wider metropolitan area, charging an average of $75 (£50) per dog.
Most dogs get bathed and styled every other week in her grooming van. The work can be physically demanding.
"And it's kind of hard mentally, too," Ms Moore says. "Because you have to deal with two clients, not just one. And the one isn't necessarily holding still."
'New generation'
BarkBox also finds that its customers love to post photographs and videos of their dogs on social media, which in turn helps to promote the company.
Its page on Facebook now has more than 100,000 "likes".
"We're trying to become a new generation pet brand," says Mr Meeker, who back in 2002 co-founded social networking firm Meetup.com.
BarkBox's customers are an affluent bunch. Mr Meeker describes them as professional, urban and media-savvy.
"And then they are insanely obsessed and passionate about their dogs," he says. "There's nothing that they wouldn't do to make them happy and healthy."
He adds that the dogs are also happy when their packages arrive. "They know this box is for them," says Mr Meeker.