Federal Reserve: Who will replace Ben Bernanke?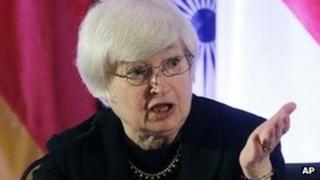 There are three candidates being discussed as possible replacements to Ben Bernanke, chairman of the Federal Reserve, the US central bank.
They are vice-chair of the Federal Reserve Janet Yellen, previous vice-chair Donald Kohn and former Treasury Secretary Timothy Geithner.
President Obama will choose the candidate who will lead the world's largest economy.
He or she must then be approved by the US Senate.
A Federal Reserve chairman is approved for a term of four years, which is often renewed.
Once he steps down in January 2014, Mr Bernanke will have served for two terms, having been first appointed by former US President George W Bush in 2006.
His predecessor, Alan Greenspan, served for a combined 19 years as head of the central bank.
Janet Yellen
Ms Yellen would be the first woman to lead the Fed.
Many people say she is the most likely candidate.
The 67-year-old was chair of the White House Council of Economic Advisers when former US President Bill Clinton was in office.
Mr Obama received a letter signed by 350 economists last week urging him to choose Ms Yellen, and she is the preferred candidate of many Senate Democrats.
The economists pointed to her early warning about the sub-prime mortgage crisis, democratic leadership style and commitment to job growth.
But she is not thought to be Mr Obama's favourite, having spent the financial crisis outside of his close circle of economic advisers.
Financial markets preferred her above former Treasury official Larry Summers because her approach is seen as being similar to Mr Bernanke's.
Investors believe that she will continue Mr Bernanke's extraordinary efforts to prop up the US economy longer than Mr Summers would. This is because she is thought to have a more relaxed attitude than Mr Summers to inflation, preferring instead to prioritise boosting employment by keeping rates lower for longer.
But it could send out the wrong message at a time of US economic recovery, said Kerry Craig, global markets strategist at JP Morgan Asset Management.
The president may prefer someone more "hawkish", who takes a harder line on inflation, Mr Craig said.
"Obama doesn't want to hinder recovery," he added.
Donald Kohn
Mr Kohn, 70, worked as vice-chair at the central bank for 40 years. He retired in 2010.
He is a respected economist who might be considered a safe bet, following his experience dealing with the financial crisis in his previous role at the Fed.
Mr Obama publicly named him as one of the candidates he is considering in discussion with reporters over the summer.
The former vice-chair is an external member of the Bank of England's Financial Policy Committee, which regulates the British financial system.
Timothy Geithner
Mr Geithner was president of the New York Fed during the financial crisis in 2008.
He has been praised for preventing another Great Depression, but criticised for being too lenient on the banks.
He was Mr Obama's Treasury Secretary between 2009 and 2013 and also had senior posts in the Clinton Treasury Department and at the International Monetary Fund.
The 52-year-old was heralded by watchers of the Fed as the man to replace Ben Bernanke. He is a confidante of Mr Obama, and a White House favourite. But he has ruled himself out of the race.
Chris Orndorrf, senior portfolio manager at Western Asset Management, told the BBC he thought Mr Obama would try to persuade Mr Geithner to take the job.
"He [Mr Geithner] said he doesn't want it but stranger things have happened in Washington. I would say maybe a 25% chance," Mr Orndorrf said.
A surprise choice?
There is no doubt that Mr Summers had been Mr Obama's preferred choice to lead the post.
Some political watchers speculate that Mr Obama might want to make a surprise choice in order to avoid the impression that he caved to the will of outsiders like Senate Democrats, who prefer Ms Yellen.
This would not be the first time that Mr Obama made an unexpected choice to lead a banking institution.
His appointment of Jim Yong Kim, the former president of Dartmouth University, to lead the World Bank took many by surprise.
The favourite candidate among observers to lead the World Bank at the time? Mr Summers.