US retail sales growth slower than expected in August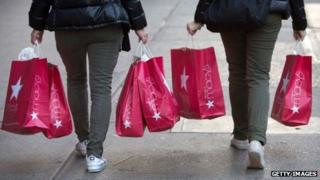 US retail sales grew at a slower-than-expected rate in August, despite increased demand for high-priced, one-off items such as cars.
Sales were up by a seasonally adjusted 0.2%, as US consumers bought fewer items of clothing, sporting goods and building materials.
Economists had expected sales to rise by 0.4%.
Sales of cars rose by 0.9% last month according to the Commerce Department, having dropped 0.5% in July.
Chris Williamson, chief economist at researchers Markit, said the figures supported the expectation that US economic growth will have slowed slightly for the third quarter of the year.
"The message from the various official data that are available is therefore that the economy continued to grow in the third quarter, but that growth is likely to have slipped from the 2.5% annualised pace seen in the second quarter."
However, he added that the overall picture is far from negative.
"Sales have nevertheless now risen in 13 of the past 14 months, the exception being last March, indicating that shoppers have not been deterred from spending by issues such as the payroll tax rise at the start of the year and worries about the fiscal cliff, as many had feared.
Mr Williamson and many other economists still anticipate that the Federal Reserve will announce it is starting to reduce its $85bn a month economic stimulus at its next meeting.
Paul Dales, Senior US Economist at Capital Economics agrees. He said the retail figures, "may support a tapering of QE3 at next week's Fed meeting".
In a separate survey, the Labor Department said that US producer prices rose by 0.3% in August. They had been flat in July.