Bank account switchers 'could save £600'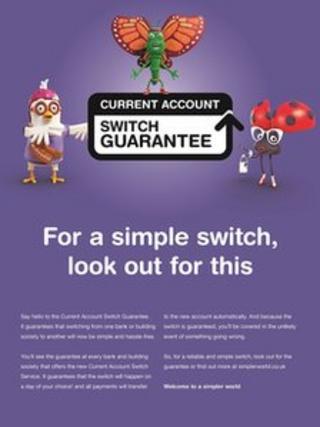 The UK's 49 million bank customers are being told they could save up to £600 by switching their current accounts to another provider.
From Monday, it should also be faster and easier to move to another bank.
Up to now, it has taken as long as 30 days to transfer a current account, but now the industry is promising it will take just seven working days.
It follows a report from the Independent Commission on Banking, in September 2011.
The Commission, chaired by Sir John Vickers, recommended easier account switching as a way of promoting competition between banks.
"It is definitely worth switching," said Mark Fiander from the Money Advice Service.
"It's not uncommon to save £500 or £600 by switching your bank. Now whether that's because you're not paying fees or charges, or equally if you're not getting interest that's sitting in your current account, it can really add up," he told the BBC.
Those who use a bank overdraft frequently could be amongst the biggest gainers.
But some banks also operate cash-back deals, which can provide hundreds of pounds of income.
Choice
The big question for the industry is how many people will switch.
According to the Payments Council, last year about two million people moved their accounts.
Some surveys have suggested that could now increase to more than five million. Others have forecast that existing customer inertia will prevail.
Research by the Centre for Economics and Business Research (CEBR) for Metro Bank concludes that the numbers switching will merely double within the next 10 years, to about 5%.
At that rate, the numbers switching bank account will still be far fewer than those who change their energy provider. According to the CEBR, 10% of electricity customers now switch every year.
Craig Donaldson, the chief executive of Metro Bank, believes people will begin to switch as perceptions change.
"To change the face of British banking, we need to make seven-day switching work," he told the BBC.
"But we also need to create more choice for people," he said.
Some of that extra choice will only happen next year, when Virgin Money and Tesco are expected to enter the market with new current accounts.
'Compelling'
Without good reasons to switch, many people remain reluctant to move their accounts.
"It's too much hassle," said one woman on a street in central London.
"You pick a bank from the beginning and stick with it. I'm a bit stuck in my ways."
But Taz Miah, who has stayed with the same bank since university days, said he liked the idea of moving.
"A number of banks will start offering different services," he told the BBC.
"At that point you think, 'Ah, that's compelling. I'd switch for that.'"
The Money Advice Service, which is backed by the government, is also keen to encourage people to switch.
It is launching a comparison tool on Monday to help people decide which bank would provide the best value for them.
Customers can also visit the Current Account Switch Service, which has been set up by the Payments Council, to give details about which banks are taking part and how people can switch.