Tesco 'disappointed' by meat test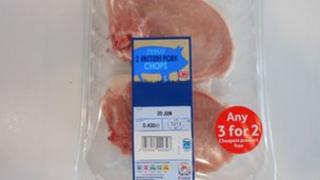 Two Tesco pork chops labelled as British probably came from the Netherlands, tests have revealed.
The pork chops in a pack bearing the Red Tractor logo were highly unlikely to have come from the UK.
The problem came to light after the meat, bought at random in Salford by a reporter working for Radio 4's You & Yours and Farming Today programmes, was tested in a lab in Germany.
Tesco said it was "extremely disappointed" by the discovery.
Stable Isotope Ratio Analysis is a technique used by the British Pig Executive (BPEX) to double-check the authenticity of pork labelled as British by comparing it to a database of samples taken from key parts of the country.
BPEX agreed to carry out the test for the BBC to demonstrate the effectiveness of the new measures, which are intended to reassure consumers that pork sold under the Red Tractor logo is from Britain.
But the results suggested there was less than a 1% chance the two pork chops actually came from Britain, and may have come from the Netherlands.
Testing 'rigour'
Cranswick Country Foods, which supplied the pork to Tesco said it had reviewed its systems and had told its customers they could be confident its products were correctly labelled.
Their records showed they had bought the meat from another supplier, FA Gill Ltd, a family-owned meat company in Wolverhampton.
In a statement, FA Gill Ltd pointed out it was only one of a number of suppliers of pork to Cranswick that is packed for Tesco, saying: "F A Gill can categorically deny that the pork came from their supply as they do not deal with Dutch meat.
"We correctly label the products we sell to our customers and we have the documentation to prove this."
It is not clear how the mix-up happened. Subsequent tests on other samples of pork from Cranswick Country Foods showed no similar problems. Neither did a review of 40 other samples taken from across the industry during earlier tests.
Mick Sloyan from the British Pig Executive described it as an isolated case: "Human error can occur. This is not going to happen on a regular basis.
"I think we have shown that this technology works and it provides an extra level of reassurance for consumers in the traceability systems that we adopt."
Tesco, Britain's largest supermarket, said: "We are extremely disappointed to discover a pork loin product probably came from a Dutch farm, not a British farm.
"When we specify that we want British pork, we expect to be supplied with British pork. We have spoken with our supplier to make clear that this mistake is unacceptable.
"We've recently trialled this new isotope testing and we are talking to BPEX about how we can develop this alongside our existing tests, to bring even more rigour to our food testing programme."
You can hear more on this story on You & Yours at 12:00 on BBC Radio 4 on Monday 16 September.