Phone companies plan to tackle 'courier fraud' phone trick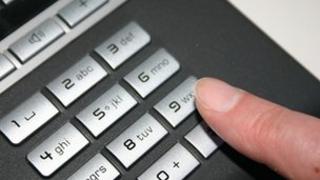 Telephone companies are trying to end a scam that persuades people to hand over their bank cards.
Gangs posing as police ring people at home telling them there has been a fraud and to ring their bank.
But the criminal does not hang up, so when the victim tries to ring out they are still connected to the fraudster.
BBC Radio 4's You & Yours has learned some phone companies plan to cut the time a line can be held open from two minutes to two seconds.
Known as "courier fraud", because messengers are often sent to homes to pick up bank cards, there was a wave of cases in Greater Manchester earlier this year when more than 50 people in their 80s and 90s were targeted over three months.
"John", 82, answered his phone to a man calling himself DC Hammond from Central London Police Station.
"DC Hammond" said two Eastern Europeans with a cloned version of his card had taken £1,000 from his account so they needed his original debit card as the suspects were appearing in court the next day.
John said: "I told him that's hardly going to be possible because I'm in Manchester and you're in London.
"He said don't worry about that we've got a courier service and it won't cost you a penny, the police pay for all that."
Mimic
When John asked if he could verify the caller's identity by ringing his local police station, the man agreed.
Instead of ringing off, the fraudster simply stayed on the line while John rang the "station".
He then mimicked an officer at the central London station and confirmed there was indeed a DC Hammond, and told John it was fine to co-operate with the plan.
Minutes later a well-dressed man appeared at the door and collected the card.
After initially refusing to reveal his pin number, John agreed to dial it on to the telephone keypad believing he was dealing with his bank.
Within minutes £350 had been spent on his card and the criminals had tried to take out another £1,100.
His bank eventually refunded the money.
Sky and TalkTalk are among the companies planning to cut their on-hold time from two minutes to two seconds.
BT, as the largest telecoms provider, told the programme there was no simple solution but that they are committed to working with the police to support their investigations.
Ofcom said: "We are extremely concerned that telephone network features are being exploited by criminals to commit courier fraud.
"We are working as a priority with the Metropolitan Police and landline providers to prevent this criminal activity.
"Industry has been engaging constructively on this issue and we are encouraging providers to do all they can to prevent this scam as quickly as possible."