AXA fined £1.8m by regulator FCA for advice failures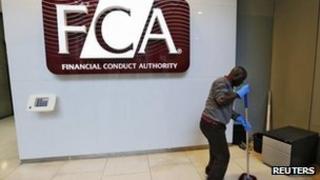 AXA put thousands of elderly and financially inexperienced customers at risk of buying unsuitable investment products, a regulator has found.
The Financial Conduct Authority (FCA) ordered AXA Wealth Services to pay a fine of £1.8m for the advice failings.
The company must also contact all customers who might have been affected, pay compensation and switch investments if appropriate.
AXA apologised but said it had received relatively few complaints.
Timescale
The FCA review found that AXA sold about 37,000 investment products to 26,000 customers between September 2010 and the end of April last year.
The sales were made through AXA's advisers based in branches of Clydesdale Bank, Yorkshire Bank, and the West Bromwich Building Society.
These customers, many of whom were elderly, invested a collective total of £440m with AXA. However, their losses may be low, owing to movements in the stock market since the advice was given.
Among the errors by advisers were a failure to confirm the levels of risk that customers were willing to take with their investments, and not ensuring that these customers could cope financially if their investment fell in value.
The FCA said that there was an "unacceptable risk" of sales advisers making inappropriate investment recommendations in order to qualify for bonuses.
"AXA fell short of its responsibilities to its customers, many of whom were elderly, retired and financially inexperienced," the FCA's Tracey McDermott said.
"AXA's failures were avoidable, coming despite repeated warnings from the FCA's predecessor to the industry about investment advice."
An AXA spokesman said: "We take regulatory compliance very seriously and regret that the customer advice provided by the... division did not meet the high standards expected by the FCA.
"As the FCA has noted, customer detriment may currently be low, as was the number of complaints AXA has received. We will be writing to our affected retail banking customers and will review the advice provided to them during that period should they wish us to do so."