Vodafone set to take over Kabel Deutschland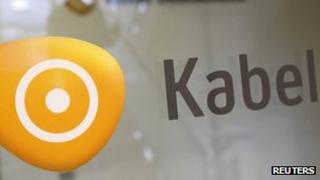 Vodafone is set to complete a 7.7bn-euro (£6.6bn; $10bn) takeover of Kabel Deutschland after securing the backing of the German cable operator's shareholders.
The mobile phone giant said 75% of shareholders had agreed to the deal, the minimum amount it needed before buying Kabel.
Vodafone expects to finalise the takeover by the end of the month.
However, EU regulators still need to give it their approval.
The acquisition would mark a change in strategy for Vodafone, which has largely focused on mobile phone services in Europe.
Vodafone is making its first foray into consumer broadband and television, tapping into the so-called "quad-play" market in Germany, which is growing, but still lagging behind France and Spain.
Bundled packages
"Quad-play" or "multi-play" services offer digital TV, broadband and fixed and mobile telephony services to customers.
Among other things, these bundled packages allow customers to watch television on numerous devices, from tablets to laptops. Cable lines also carry voice calls and internet at speeds faster than those usually offered by telecoms operators.
The deal will give Vodafone access to 32.4 million mobile phone customers, five million broadband and 7.6 million TV customers in Germany.
Vodafone recently sold its 45% stake in Verizon Wireless to US telecoms group Verizon Communications in one of the biggest deals in corporate history.
The $130bn (£84bn) deal was announced by Vodafone in early September.
The company will return £54bn to its shareholders, of which £22bn will go to shareholders in the UK.