Ofwat to challenge Thames Water bill rise request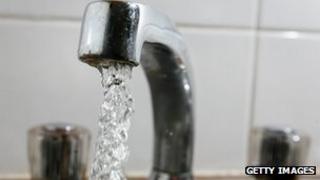 Ofwat, the water regulator, says it will challenge Thames Water's request to increase customer bills by up to 8% next year.
Thames's proposed increase could add £29 to the average £354 annual household bill, says Ofwat.
The regulator is challenging Thames's claim that bill increases are justified because it is facing rising costs.
Ofwat claims Thames has underspent on sewer and sewage improvement schemes.
Thames is the only one of the 18 regulated water companies to have applied to the regulator for a bill increase in advance of the next pricing review.
But Ofwat is examining whether financial gains the company has made elsewhere make such bill rises unnecessary.
Ofwat's chief regulation officer Sonia Brown said: "We have been clear that we would challenge Thames' proposed bill increase. So we are looking to see if there are areas where we can claim money back for customers."
A Thames Water spokesperson said: "We expected the regulator to set out the format for assessing our application. This is part of the regulatory process.
"We don't plan to comment until after Ofwat's draft decision."
Ofwat says it will publish that in mid-October.
Any price increase would start from April next year.
Price limits
Ofwat sets limits on the prices water companies can charge and these rules apply for five years. Its last price review in 2009 set limits for the 2010-15 period.
Under its agreement Thames is already allowed to increase charges by 1.4% above inflation in 2014-15.
But now Thames says costs relating to bad debt, the transfer of private sewers, land purchases and Environment Agency charges have risen by more than estimates used when the price regime was set in 2009.
The net impact of these extra costs is £291m, Thames says.
Ofwat is due to make a final decision on the future prices water companies can charge by January 2015, with new bills coming into effect in April 2015.