Indonesia raises rates and cuts growth forecast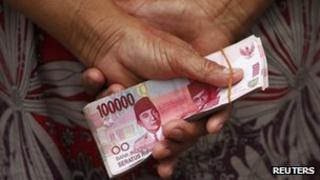 Indonesia's central bank has raised interest rates for the second time in two weeks as it looks to stem the sharp decline in its currency, the rupiah.
It raised its key rate to 7.25%, the highest level in more than four years.
Indonesia's currency has dipped nearly 18% against the US dollar since May this year as investors pull out of emerging markets, stoking concerns about the economic impact.
The central bank also cut its growth forecast for the current year.
On Thursday, it said that it now expects the economy to grow between 5.5% to 5.9% compared with its earlier projection of a growth between 5.8% to 6.2%.
That will be the lowest pace of growth since the global financial crisis in 2009.
Multiple factors
Indonesia, like many other emerging economies, has been hurt as investors withdrew money in recent weeks.
The pull out has been triggered by growing speculation that the US central bank will start to taper off its key stimulus programme and start raising interest rates sooner than previously thought.
The programme, known as quantitative easing, is used by the US central bank to increase the money supply and improve liquidity in the financial system.
A part of that increased liquidity has flowed to emerging economies, such as Indonesia, triggering a surge in stock and asset prices over the past few years.
But a recovery in the US economy, coupled with speculation of higher interest rates there, has seen investors ditch emerging markets and rush to buy US dollars - hoping for a better return.
That has hurt currencies and stocks in these economies.
To make matters worse for Indonesia, there have been growing concerns about the health of its economy, not least due to the country's widening current account deficit.
At the same time, a slowdown in demand from key markets for its natural resources has also hurt growth.
The central bank warned that household spending in the country - a key driver of growth - was also likely to slow in the second half of the year.