Sainsbury's watercress recalled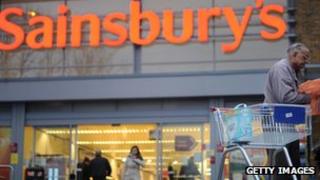 Sainsbury's is recalling all of its bagged watercress as well as salads containing watercress in response to an outbreak of E. coli.
The Food Standards Agency (FSA) has reported an outbreak of E. coli that has made 15 people ill.
Sainsbury's said the FSA had told it that watercress brought from its stores was "one of their lines of inquiry".
It said the recall was precautionary and that recalled products could be returned to stores for a full refund.
"The FSA has made us aware that a small number of people have fallen ill with a bacterial infection, and that one of their lines of investigation is watercress bought at Sainsbury's since 1 August," a spokesperson for the supermarket said.
"Although no traces of contamination has been found in our products we have as a precautionary measure withdrawn six lines of pre-packed salad containing watercress from the supplier concerned."
The FSA's investigations into the outbreak are continuing.
The withdrawn lines are:
SO organic watercress 75g
SO organic watercress spinach and rocket 100g
by Sainsbury's watercress leaves 75g
by Sainsbury's watercress spinach rocket salad 100g
by Sainsbury's watercress, spinach and rocket 170g
by Sainsbury's watercress twin pack 2x35g