Tenants could switch to save £190, says Ofgem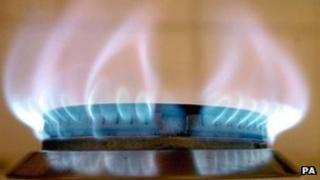 Nearly four in five UK tenants have never switched energy suppliers - a move that could save them £190 a year, the energy regulator has said.
Ofgem said that 77% of bill payers in rented homes had never switched gas and electricity supplier.
If a tenant is directly responsible for paying the bill, then they have the right to switch.
If the landlord has a tie-in with a specific supplier, this must be made clear to a tenant.
However, if the tenant is responsible for paying the bill then he, or she, has the right to switch at any time without incurring an exit fee.
"At a time when nine million British households are renting and budgets are tight, it is important that consumers are clear about where they stand when choosing and switching their energy supplier," said Philip Cullum, Ofgem senior partner.
"Our research shows that tenants that have not switched could save an average of around £190 on their annual energy bill."
The regulator has put together a guide for tenants on the issue.
Carolyn Uphill, who chairs the National Landlords Association, said: "As energy prices rise, it is essential that bill payers get the best value for money and when looking to rent a new property, tenants should consider the total cost of living in the property, including the bills, rather than the rent alone."
"However, as a courtesy, we advise tenants to inform their landlord if they plan to change energy supplier and ask permission to add new wiring or equipment if this is required."
Angela Knight, chief executive of Energy UK, which represents the major suppliers, said: "Energy companies make it easy to switch and the process does not involve any upheaval or men coming round to change meters."
She said that people could shop around and should check any comparison websites for the Ofgem Confidence Code logo to ensure the advice is "impartial, reliable and above board".