First-time buyer loans up by 41%, CML says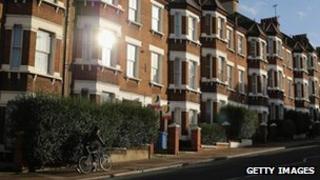 The number of mortgages advanced to first-time buyers in July increased by 41% compared with a year ago, but the numbers remain well below peak levels.
Some 25,300 loans were advanced to people buying their first home in July, figures from the Council of Mortgage Lenders (CML) show.
But that is still about 10,000 fewer than pre-financial crisis levels.
Much debate about the future of the UK housing market and the potential for a price bubble has been heard this week.
Bank of England governor Mark Carney told MPs that there was a need to be vigilant but parts of the country had not seen any recovery in the housing market.
Mortgage availability
There was an increase of 5% in the number of loans advanced to first-time buyers compared with June. Borrowers had an average age of 30.
These buyers were taking a "measured approach" to buying property, according to Mark Harris, chief executive of mortgage broker SPF Private Clients, because they were generally borrowing about the same multiple of their salary as buyers during previous months.
The CML's director general, Paul Smee, said that signs of a greater availability of mortgages were clear from a speedier recent increase in loans advanced to people moving house.
The 32,000 loans advanced in July was a rise of 12% compared with June, and up 9% on July last year.
"This is a positive sign of a mortgage market where obstacles to transactions are now reducing," Mr Smee said.
Total mortgage lending rose to £16.7bn in July, up 12% on the previous month and 29% higher than last July, the CML said.
Bubble ahead?
Various government and Bank of England schemes aimed at kick-starting the property market have been key to the recent pick-up, commentators have said, alongside general improvements in the health of the UK economy.
However, concerns have been raised that the government's flagship Help to Buy scheme could create a bubble in the housing market.
The scheme, which began in April, allows buyers of new-build homes to put down a 5% deposit and take out a government loan for up to 20% of the value of the property.
From January, the scheme will be extended to help buyers of existing homes.
On Thursday, Business Secretary Vince Cable questioned whether the second part of this scheme should go ahead.
But Downing Street has insisted that the government would press ahead with the idea.
Others have expressed concern over the housing market.
The chief executive of Barclays, Antony Jenkins, said he was concerned about the potential for a "property-driven boom" in the UK and although the Bank of England was monitoring the state of the market carefully, "these things can be difficult to control".
'Pre-crisis'
But the CML said that talk of a housing boom was "premature".
"The UK property market is actually a complex and dynamic patchwork of regional and local conditions," the lenders' group said.
And the Bank of England governor told MPs on the Treasury Select Committee on Thursday that the housing market recovery needed to be put in context because activity was still at "two thirds or three quarters of pre-crisis levels".
"There are big pockets of the country where there has not been any meaningful recovery," Mr Carney said.
Asked by MPs what could be done if house prices got out of hand, he said "we do need to be vigilant" and he would start with "more intensive supervision of mortgage lending".
Banks would have to make sure that there were appropriate limits on how much housebuyers could borrow in relation to their incomes or the value of the homes.
"There would be guidance to do with loan to income and loan to value," he said, though these would only have the force of recommendations.
And he warned that banks could be forced to set aside more capital to discourage them from reckless lending.