Facebook shares hit highest price since May 2012 debut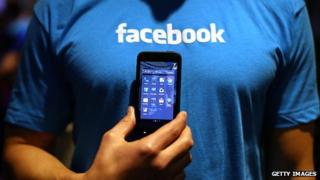 Shares in the social networking giant Facebook have finally surpassed their previous high of $45 (£28), reached on their first day of trading in May 2012.
The stock rose 3.3% to $45.05 by midday in New York.
Investors have reacted favourably to the company's efforts to better tailor its mobile site for advertisers, who provide most of the company's revenues.
Facebook's shares lost half their value in their first year as a publically traded company.
When it made its stock market debut on the Nasdaq exchange in May last year, the appetite for shares in the world's biggest social networking site was enormous.
Priced initially at $38 per share, the stock soared within hours of its debut to a high of $45. But its stock later slumped.
Efforts by the company to improve its mobile experience to attract more users have impressed investors, however.
Shares in the company have surged 60% since July, after the company reported better than expected earnings.
Facebook said mobile made up 41% of its total advertising revenue in the second quarter of the year, and said revenues from mobile advertising would soon surpass revenues from desktop adverts.
Facebook said its mobile user base grew by 51% in the second quarter of this year to 819 million. it claims to have more than a billion users worldwide.