How Sports Direct beat the opposition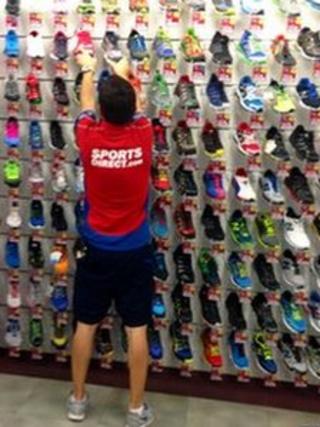 The uninitiated shopper visiting Sports Direct's flagship store on Oxford Street in central London might wonder whether the company is suffering something of an identity crisis.
It is crammed with traditional sporting kit - football shirts, trainers, swimsuits, track suits, as well as all manner of sporting paraphernalia.
Then just across the aisle hang jeans, T-shirts and even handbags.
It might look confusing, but there's no doubt the mix works. The firm's latest financial figures are testament to that, showing an 18% rise in sales in the three months to the end of July.
Soaraway shares
Sports Direct is now worth about £4.3bn and destined to join the select band of the FTSE 100 - the index that charts the fortunes of the UK's biggest stock market-listed firms.
The company's owner, billionaire Newcastle United owner Mike Ashley, took the firm public in February 2007 - straight into the maelstrom of global economic crisis.
The firm's shares had a torrid time to start with, but in a sign of things to come, began recovering in November 2008, about five months before the mainstream markets bottomed out and began clawing their way back up.
Since then the way has, by and large, only been up.
Sports Direct's shares have risen 86% since the start of the year and the firm easily made it into the latest FTSE 100 reshuffle, which takes effect on 23 September.
The firm is currently worth £250m more than its nearest FTSE 250 rival, Mondi.
Mike van Dulken, head of research at Accendo Markets, said the firm's resilience stood out for investors.
"Despite consumers being pinched, this business is still managing to grow profitability year in, year out," he says.
"Things have certainly been going the right way in terms of revenue, profitability and margins - and that is a great recipe for investors."
He points out that while the wider High Street has been moribund, margins at Sports Direct have gone from 7% at the end of April 2011 to an expected 10% when the company reports full-year results in April 2014.
Pruning
There are several reasons for Sports Direct's meteoric rise, not least the demise of rivals such as JJB Sports.
This leaves investors keen on getting into the sports retail sector with limited choice.
But Neil Saunders, managing director of retail analysts Conlumino, says Sports Direct has very much driven its own destiny.
"The business is run very efficiently, it's very lean and has strong operational discipline," he says.
"They have tight control of suppliers and are very tight in terms of head office structure - there's no fat there at all."
This approach allows Sport Direct to make a handsome profit, despite low prices and low margins.
Mr Saunders adds that the firm displays a ruthless streak that some of its older rivals do not.
"It is very disciplined in reviewing the business and making tough decisions. If a store is proving too expensive, they will cut it from the portfolio.
"That ongoing pruning stands in marked contrast to other retailers."
Piggybacking
Sports Direct has started dabbling in international markets, having invested in Austria and the Baltic states through acquisitions.
Analysts see this as an example of the firm's foresight.
"Sports Direct's online and international expansion activities are appropriate responses to a market that has seen much consolidation," says John Pal, senior lecturer in retailing at Manchester Business School.
"It has seen off a number of competitors such as All Sports and JJB in the UK and is now a mature retailer."
Neil Saunders adds that the firm has been clever not to rush into making international plans.
"Their offering is quite universal - it crosses borders, but there is a rule in retail that you don't bite off more than you can chew.
"You can be doing well in the home market, but that takes up a lot of management time and finances," he says.
"If you look at too much in one go, it dilutes what you can do effectively and you end up doing nothing particularly well."
Instead, Sports Direct has built up economies of scale and logistics networks that Mr Saunders says the firm can piggyback on, while making it much easier to bolt on another country.
Bowler hat
Once the firm is in the FTSE 100, institutional investors and funds that track the index will buy into its shares.
This has some wondering if the grandees of the investment world know what they are in for.
Mike Ashley is notoriously unforthcoming with investors, which is something these big hitters will be unused to.
Whether he will be able to maintain this stance is unclear as yet.
Elissa Bayer, investment director at Williams de Broe, says he probably will - for now.
"I think the issue is, when you are doing well, investors will put up with a lot," she says.
"If, for any reason, things go the other way, then investors will come down hard."
As things stand, Mr Ashley looks as though he will be able to maintain his splendid isolation.
Analysts have pencilled in a 6.5% rise in revenues and a 20% rise in profits when the company reports full year results next April.
Which means we are unlikely to see Mike Ashley doffing his bowler hat to the City's big guns in the immediate future, at least.