Barratt says housing market recovery spreading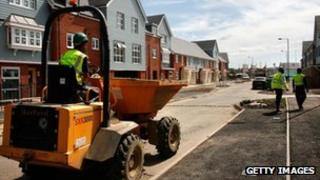 The housebuilder Barratt Developments has said the recovery in the housing market is spreading.
"We are seeing the housing market recovery starting to spread beyond London and the South East," chief executive Mark Clare said.
The group reported pre-tax profits for the year to the end of June of £104.8m, up from £100m the previous year.
Its average selling price rose to £194,800 up 7.9% from the previous year's figure of £180,500.
Barratt expects to complete about 45,000 new homes over the next three years.
It also reported it had cut its debt to £25.9m from £167.7m at the end of June 2012.
Mortgage movement
Barratt's chairman Bob Lawson said there had been an improvement in the mortgage market.
"Significant progress has been made on the availability of finance for customers and the mortgage providers' capacity to lend has slowly improved," he said.
"This has been accelerated by a series of Government mortgage initiatives - FirstBuy, NewBuy and Help to Buy."
Some have suggested that the extension of these government schemes could create a new housing market bubble.
Various surveys and figures from lenders have showed that UK mortgage lending is at its highest since the start of the financial crisis, but remains well below the levels seen during the preceding boom.
Earlier in the week, the Royal Institution of Chartered Surveyors (Rics) also said that there was a pick-up in the market in areas other than just London and the South East of England.
It said the number of homes for sale across the UK increased in August but still did not match demand.
The Council of Mortgage Lenders also attempted to dampen suggestions of a housing boom, describing the pace of housing activity as "moderate".
"The UK property market is actually a complex and dynamic patchwork of regional and local conditions in different locations across the UK," the lenders' group said.