The designer creating a new Chinese brand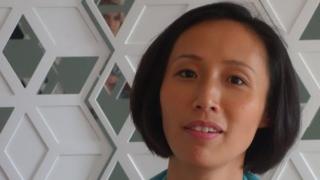 Taking tea with the Shanghai designer Jiang Qiong'er is an elaborate affair, slow and ritualistic.
Her brand comes to Europe this month.
My introduction to the designer took place on the top floor of a discreet boutique hotel on the edge of Shanghai's chic French Concession district, where Ms Jiang has a succession of exquisite rooms to show off her expensive designs in domestic surroundings.
You walk down a wooden walkway slightly suspended above a floor of stones.
You enter a room actually made of tea: wall and ceiling built out of a chequerboard arrangement of tiles of compressed leaves, a traditional Chinese way of producing it.
The faint aroma of tea suffuses the room, creating a mood.
The making of the tea itself is in the hands of a professional tea master, or rather mistress. She is calm, deliberate, careful, dressed plainly in white.
We sit at a low table with a surface made from an old scholar's ink stone, on which his inkstick was ground to produce a powder which was then mixed with water to create the ink for calligraphy. An ancient tradition, like the tea itself.
The water is heated in a venerable iron pot. The tea pot and cups, are warmed with water and carefully dried. The tea itself, a fine Formosan Oolong from Taiwan, is precisely measured into the pot; the hot water is poured in to cleanse the leaves, and then poured away.
We drink from the second infusion, but only after we have carefully tipped our delicate straw-coloured tea from small upright sniffer beaker into which it was first poured (for the nose) into a tiny cup (for the mouth).
It is (of course) delicious. A dark glow that runs all round the mouth and awakens many taste buds, changing in intensity and effect as more is poured; Chinese tea can stand many infusions.
Traditional arts
This quiet ceremony is a prelude to a business conversation. Jiang Qiong'er has created two very posh Shang Xia retail stores in Shanghai and Beijing seeking to reflect traditional Chinese values in the quality of the things she sells.
Clothes, shoes, cups and furniture are made by craftspeople she and her team have sought out all over China, bringing to city shoppers traditional arts that have somehow survived in a country modernising itself at breakneck speed.
Cashmere felt is one example, making the snuggest of jackets inspired by Mongolian horse saddles. There are exquisitely curved slippers, and fragile looking eggshell porcelain bowls.
The name Shang Xia combines the words for up and down: the blending of tradition and modernity, says Ms Jiang.
The Chinese have rapidly become the biggest buyers of luxury goods in the world, and Shanghai is full of the best known global luxury brands. But hers is a different world from that of the big brands, she insists.
Shang Xia is too shy or too discreet a brand to advertise. Its small selection of clothing does not reflect the fashion seasons. Crafts and tradition are at the heart of what it sells.
Jiang Qiong'er was born into an artistic family; her father was the architect of the striking Shanghai Museum, which looks like a giant cooking pot set down in the city's main square not far from her store.
She trained in Shanghai and Paris, and then practiced as a designer. She married a French husband, and speaks English with a soft French accent.
She was designing window displays for the French luxury chain Hermes when she had dinner with Patrick Thomas, the Hermes chief executive some six years ago. They clicked, and the idea for the new store was born: a Chinese luxury retailer driven by Ms Qiong'er, but majority-owned by Hermes.
This is a long play. Shang Xia seems to be under no particular immediate pressure to be profitable.
The stores are airy and sparse, each individually designed by a leading Japanese architect. Tea is served to all inquiring customers as a matter of course. No hurry. It is all very stylish.
European shoppers will get a chance to sample Shang Xia in Paris this week, when the first store outside China opens in the superchic Saint-Germain-des-Près district, right next to a Hermes store.
(Of course the customers may not be all European. Much Chinese buying is done on trips abroad. Brands gain plausibility by being seen far from home.)
This is all part of the great reshaping of the commercial world. China's exporters have conquered the world with a torrent of western-designed goods.
China's new rich have rushed to show off their wealth by spending their money on luxury status symbols with much advertised global brand names attached to them.
But Jiang Qiong'er is a pioneer. She is trying to create an original Chinese brand out of restraint, style and old-fashioned craftsmanship, not bling. Her tea is delicious, too.