Toyota: Investment in 'green' paying dividends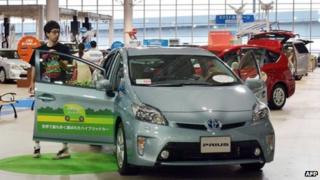 Green is a big theme at this year's Frankfurt motor show, but no carmaker has gone as far as Toyota in putting its eco credentials on display.
The entire line-up of 12 Toyota models, including six of its Lexus premium brand, are cars with hybrid engines.
Toyota's message, says the head of its European operations, Didier Leroy, is that the fuel engine/electric motor combination has come of age.
"This is a tipping point for the technology," says the Frenchman, the first non-Japanese to lead the European arm.
"It is now recognised as the key technology needed to achieve the very ambitious emissions targets set by the European Commission."
Increasingly, it seems, consumers agree.
Last year Toyota sold about 110,000 hybrid cars in Europe, taking about 65% of that segment of the market.
This year, it expects to take close to 75%. It means that about 20% of Toyota's sales in Europe are hybrids.
"Even though our competitors are also introducing hybrid cars in their line-up, our market share is still growing," Mr Leroy says. "I think the consumer understands that the technology has got better. And so has the driving experience."
'Profitable'
It is almost 14 years since Toyota's Prius, the first mass-produced hybrid car, entered the market - to mixed reviews.
Toyota is now on its third generation of hybrid technology, but still there is a lot of sniping in the industry that the products do not turn a profit.
"It is simply not true," says Mr Leroy. "The cars are competitively priced and we are making money on sales. We are profitable."
The commitment to the technology remains as strong as ever. Toyota has launched a plug-in hybrid - to recharge a battery - which Mr Leroy claims is out-selling its nearest competitor by two-to-one.
He foresees a time when some countries, mindful of congestion and emissions problems, will allow only electric-powered vehicles within their city walls.
Mr Leroy says: "Currently, the technology only allows for short journeys, so they are good for city journeys. But these are things on which we continue to work and develop for future generations of hybrid."
The next game-changer, he says, will be mixing hybrid technology with fuel cells, and Toyota expects to bring such a car to market in 2015.
"This technology can be close to the ultimate eco-car," Mr Leroy says. "And, step-by-step, it will be a very promising technology for the future."
One big problem is a lack of roadside infrastructure that allows car owners to re-charge or stock up on the hydrogen needed for fuel cells. It's a chicken-and-egg problem: what comes first, the car or the infrastructure?
For Mr Leroy, the answer is to convince customers about the technology - and offer that technology at an affordable price. Then the infrastructure will follow consumer demand.
Divided opinion
Toyota's latest tranche of R&D investment on hybrid technology, about $7bn (£4.4bn), will see it through until the first quarter of 2014.
The spending comes at a time when opinion is divided over when Europe's economic recovery will take hold.
Mr Leroy is more upbeat than many of his peers, who believe the six-year slump in Europe's car sales may not be reversed until 2015.
Toyota's own research is reporting that unemployment has stabilised and that business and consumer confidence has risen over the last three months.
This chimes with a lot of other economic data, but significantly, perhaps, Toyota does not expect a zig-zag recovery. "The upward curve will continue to rise. The second half of the year will be quite stable, and from 2014 the market will start to grow."
Just don't expect a return to the sort of record-breaking car sales level of 2007 any time soon. "It will take, maybe, five, seven, ten years to get back there," he says.
Multi-million pound investment
But expectations of better times ahead have given Toyota the confidence to invest.
In June, the company announced a £155m investment in a touring sports version of its Auris model, to be built at its Burnaston plant, near Derby, to compete alongside the VW Golf and Vauxhall Astra.
Mr Leroy, a manufacturing man by background, ran a Toyota plant in France before being appointed president and chief executive of the Europe division in April 2011.
His job was to re-organise and cut capacity in response to plummeting consumer confidence and the eurozone crisis.
Although manufacturing capacity was reduced, the Burnaston plant benefitted after a decision to locate all Auris production - which had been shared with a factory in Turkey - at the UK site.
It means that the factory, along with Toyota's engine plant on Deeside, employ about 3,800 people.
"We don't need to increase our capacity in Europe. But I'm pleased to say, also, that we don't need to reduce it," Mr Leroy said.
Any increase in sales will be met, at least in the short-to-medium term, by increasing shift patterns at Toyota's UK, Turkey, and French plants.
"Many of our competitors still have problems with overcapacity, but we don't have such problems," he says.
'Never forget'
Toyota's re-organisation in Europe came after the company suffered a big knock to its reputation.
Recalls of hundreds of thousands of cars, the result of malfunctions and safety scares, dented the Japanese company's once unquestionable reputation for quality control.
In 2009, Toyota announced the biggest ever single recall by a manufacturer, of 3.8 million vehicles. And in June this year, 242,000 Prius and Lexus hybrid cars were called back because of 90 complaints about the brake pedal.
Yet, last month Toyota raised its sales and profit forecasts for the year ending March 2014, another indication perhaps that the company has weathered the storm.
The recalls were a bruising period, and one Mr Leroy says Toyota "will never forget".
And although many of the problems were quality control issues, he believes that there was also a lot of "rumour spraying around without any foundation".
Either, way Mr Leroy says, Toyota continues to "recall a lot of cars, because we have a zero tolerance" when consumers register complaints. The problems need investigating.
That, he says, is the way to keep loyal customers loyal.