Who owns all these empty shops?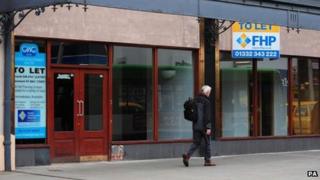 You only have to walk down a High Street in the UK to know that there are more vacant shops than there were a few years ago.
A report from the Local Data Company found that just over 14% of shops are vacant.
Who owns all these retail spaces and what are they doing about the empty ones?
Shops around the UK are owned by:
Traditional institutional investors, such as Prudential or Standard Life
Specialist property funds
Private individuals, who may own one or two shops on their local High Street or as many as 30 to 40 nationwide
Owner-occupiers.
The majority of shops are privately owned, with institutions limiting themselves to shopping centres and the highest-value High Street locations.
"Things are definitely difficult," says Jos Short, chairman of Internos, whose Local Shopping real estate investment trust (REIT) owns 600 shops around the country.
"It's better in London and the South East, but elsewhere it is still challenging."
The particularly difficult thing for landlords is that once a shop has been empty for three months, full business rates have to be paid.
"We have even tried to get premises occupied by getting a business to just pay rates and not any rent," Mr Short says.
Various organisations have also tried to use short-term lets, known as pop-up shops, to limit the numbers of empty shops, provide opportunities for art projects or one-off events and sometimes to lead to longer-term lets.
Struggling landlords
Jamie Stirling-Aird works for Black Stanniland, which provides services to individuals who own shops.
"We recently marketed a shop in Bradford that had been empty for three years for a client who owns 20 or 30 shops," he says.
Its previous tenant, a jeweller, had been paying £93,000 a year rent. It has now been let to a pawnbroker for £65,000.
"In a place like Bradford, there will be 10 or 15 suitable vacant properties for any retailer to choose from," Mr Stirling-Aird says.
"I'm sure there are a lot of landlords struggling at the moment."
"There is reasonable demand for shops in decent locations, but there are shops in really bad locations for which there is never going to be demand."
It is owners of these shops with so-called structural vacancy who are having to consider extreme measures.
It is easy enough to sell a large shop in a good location with a tenant on a long lease, but vacant shops have been fetching low prices at auction.
"Demolition or alternative use is the only option for the vast majority of these 'surplus to requirement' shops," says Matthew Hopkinson from the Local Data Company.
"To that end, restaurants, bars, cafes and even betting shops have come to the rescue, as the growth of leisure takes off in our town centres."
Converting to flats
Some bigger shops are also being converted for residential use, although that would be too expensive an option for many smaller landlords.
"We have a client who owns the site of a former Co-op in a small market town near Derby," Mr Stirling-Aird says.
"Because of the strength of Derby and out-of-town shopping it has been hard to find a new retailer."
"It used to rent for £85,000 a year. We are now looking for £40,000 to £45,000, but I suspect we'll end up selling it to a developer who might be able to convert it into flats."
Changes to the planning laws now make it easier to change properties from retail to residential use.
A recent report from the property group Colliers International predicted that the vacancy rate could return to pre-recession levels by 2020.
But only part of that recovery is likely to be down to new retailers moving into empty shops, with the rest being a result of conversion to other businesses or even flats.