High Street vacancies still stubbornly high, says report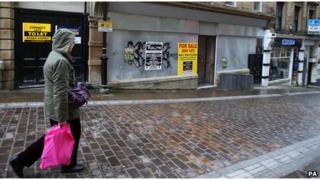 High Street vacancies remain "stubbornly high", according to a report from the Local Data Company.
Its data for Britain showed that the average vacancy rate in the top 650 centres was 14.1%, down just slightly from the previous reading of 14.2% taken in February.
Wales had the highest national vacancy rate, at an average of 17.5%, Scotland hit 14.9% and England 14.0%.
Of the large centres, Blackburn had the highest vacancy rate of 26.9%.
Cambridge recorded the lowest proportion of empty shops at 7%.
'Long-term sick'
"This report clearly shows that whilst the rise of empty shops has stalled it still remains stubbornly high for many towns up and down the country," said Matthew Hopkinson, director of the Local Data Company, which monitors High Street occupancy and vacancy rates.
"Since August 2010 the national average has been above 14%, with a significant number being 'long-term sick' with little or no prospect of reoccupation as shops," he added.
Many shops were being converted to leisure use, including restaurants, bars, cafes and betting shops, he said.
The report said that more than 500 new leisure units were created in the first half of the year.
In England there remained a strong divide between north and south.
London was the best performing region with a vacancy rate of 9.4%, while the North West had the highest vacancy rate of 20.1%.
The survey analysed more than 1,900 town centres, shopping centres and retail parks over the first half of the year.
Portas review
Last week retail guru Mary Portas told MPs she had "taken a battering" from critics for attempts to revive High Street shops.
Critics of her review - which focused on encouraging independent start-ups and community-oriented businesses to replace chain stores that had moved to out-of-town locations - said it was too "nostalgic".
But, appearing before the Communities and Local Government Committee, Ms Portas said traditional High Streets had been "in decline" for 20 years and trying to reverse this would take a long time.
She said her report had been a "catalyst for change", with half of the government's initiatives for regenerating High Streets based on her recommendations.
Twenty-seven towns and areas have been given funding to build a more diverse and sustainable shopping experience.