Frankfurt motor show: 'Worst is over' for European car sales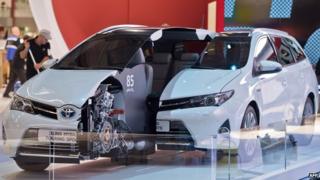 No-one at the Frankfurt motor show is likely to be brave enough to predict the end of the savage cuts in jobs and manufacturing capacity among carmakers.
But there are plenty of signs that the seemingly relentless six-year slump in European car sales looks to have eased.
Major markets have stabilised or picked up in the last couple of months.
A recent strong rise in the share prices of several carmakers underlines a new confidence among investors that the industry may have turned a corner.
"The worst is over," Ford of Europe's head of sales and marketing, Roelant de Waard, said two weeks ago.
That sentiment was echoed by General Motors' chief executive Dan Akerson, who told the Detroit News that there was "some sunshine on the horizon".
"I look at the daily sales reports out [of] Europe every day," he said. "There's no question things have stabilised."
For the first six months of 2013 sales in Europe fell 6.7% to 6.4 million vehicles, according to the industry trade body, the Brussels-based ACEA.
Modest growth
But July and August (typically a quiet month) have been stronger, with even Spain and Italy showing signs that the contraction is slowing.
Car sales in Europe for the full year are still expected to be below last year, and some 20% below their 2007 peak of about 16 million vehicles.
And heavy discounting and tough competition mean that manufacturers are still struggling to push through price rises onto the consumer.
But, increasingly, analysts are forecasting a return to growth next year, with Moody's forecasting a 3% sales rise in 2014 on this year.
This may be modest growth. But given where the industry was three or so years ago - with US giants seeking bankruptcy protection, bailouts, and factory closures across Europe - it would mark a definite improvement.
Supercar
Glitzy events like motor shows are a good snapshot of how the industry feels and where the market is going.
The number of exhibitors at this year's show is up from 1,012 in 2011 to 1,091, and carmakers are set to premiere more than 150 new products.
And although there will be the usual hype around supercar showings from the likes of Ferrari and Lamborghini, Frankfurt will see a big display of budget cars, smaller sports utility vehicles, and new-generation electric technology.
This reflects where the industry believes much future growth will come from: consumers seeking smaller and lower priced cars - especially in emerging economies - and with cleaner engine technology.
Japan's Toyota has devoted its entire Frankfurt line-up to showing off its range of hybrid engine cars.
Among some 10 new vehicles or variants from Volkswagen, Europe's largest carmaker, will be electric versions of the Golf compact and Up mini.
Mercedes is moving into the hybrid market with its S 500 plug-in. Audi, with its Sport Quattro, and BMW, with its i8 sports car, are also unveiling hybrids.
Big noise
All this points to where manufacturers expect a lot of future sales growth to come from. But it also says a lot about the strength of Germany's motor industry.
True, it's a German motor show, and so German companies want to make a big noise. With some 775,000 people working directly in the German motor industry - against 220,000 in France and 169,000 in Italy - the sector remains the dominant force in Europe.
But even so, German companies are still significantly over-represented with new products in Frankfurt.
Renault, Ford, Fiat and PSA Peugeot Citroen have little that is particularly radical or new to unveil.
It is a reflection, analysts believe, of how the likes of VW, Daimler and BMW have been able to maintain R&D investment in new products despite the recession.
Research by the investment bank UBS estimates that in the last five years VW has spent 39bn euros (£33bn; $52bn) on R&D, with Daimler spending about 26bn euros and BMW some 17bn.
Peugeot, Renault and Fiat spent barely 10bn euros each, according to the research.
As the European automotive industry emerges from recession, this could be key to which companies can take best advantage of the upturn.
It can take years for R&D to feed through into products on the road. But the German firms have a line-up of products in Frankfurt that covers just about every segment of the market.
It is not just their motor show. It is their products that are likely to lead the industry out of recession.
When Europe's biggest showcase of new cars gets under way a new mood will be sweeping through the 230,000 square metres of exhibition space.