Savings 'teaser rates' face FCA inquiry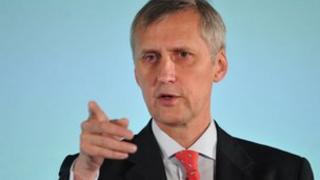 "Teaser rates" - which aim to attract consumers to savings products - are to face scrutiny by the City watchdog.
The Financial Conduct Authority (FCA) is to carry out an investigation into the £1 trillion UK cash savings market, including the effects of teaser rates.
These headline interest rates only last for a limited period, usually one year, before falling.
Many people leave money in these accounts, missing out on higher rates elsewhere.
In April, Martin Wheatley, the chief executive of the FCA, hinted that the watchdog would look into these deals for savers.
During a speech in London, he accused lenders of "taking advantage of consumer inertia".
Some 80% of all adults in the UK have some sort of cash savings account.
However, Mr Wheatley said that few savers switched their money between accounts.
"Even when people do switch their accounts, they are twice as likely to go with their existing provider than move to the offering of a competitor," he said.
A poll for Consumer Focus two years ago found that two-thirds of savers who opened cash ISAs on an introductory rate failed to move when the rate expired.
Last year, the boss of Metro Bank, one of the UK's newest banks, said the use of such headline rates, or one-year bonuses, was dishonest.
The FCA review will conclude in 2014.