Primark sales leap on strong summer and new stores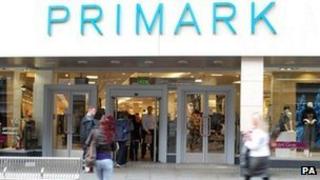 Discount clothes chain Primark saw sales surge in the last year after strong summer trading and aggressive expansion plans.
The firm's owner, Associated British Foods, expects Primark's full-year sales to be 22% ahead of last year.
A combination of High Street recovery, 16 new stores, and a stronger euro helped drive up sales.
AB Foods said the performance meant its profits for the second half would be ahead of expectations.
Stripping out new store openings, sales at Primark were up 5%.
The trading update for the year to date said profit margins had beaten expectations due to lower cotton prices and fewer discounts.
"In the second half, although growth was subdued during the very cold months of March and April, trading during the summer months was strong and built upon the success of the same period last year," the statement said.
It added that trading in stores in northern continental Europe had been strong throughout the year and like-for-like growth in Spain had improved after initially being held back by new store openings.
Expansion plans saw 16 new stores open and two close, adding almost a million square feet of selling space and bringing Primark's total to 257 stores and nine million square feet at the end of the financial year.
In addition to Primark, AB Foods also owns British Sugar, and a number of well-known food brands such as Kingsmill, Ryvita and Ovaltine.
The group said profits at its sugar arm for the full year would be in line with management expectations but warned that negotiations with EU customers over sugar prices for 2013/14 were proving challenging, partly due to low world sugar prices.
Martin Deboo, an analyst at Investec, said the impact of the weak sugar market meant he was downgrading expectations for AB Foods' full year earnings for 2014 by low to mid-single digits.
"The big picture for us is that, with the full year 2012/13 sugars profit bubble deflating, it is now Primark that needs to carry the profit can for AB Foods going forward," he said.