TSB name reappears across UK High Streets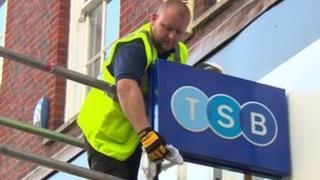 The TSB name is reappearing after 18 years at 600 Lloyds bank branches across the country.
Five million people will have their accounts transferred.
The banking giant's chief executive, Antonio Horta-Osorio, told the BBC last week that the only change they would notice would be a change of name.
The new bank will be sold off next year, as part of a process ordered by the European Commission, to provide greater competition.
Customers' bank account numbers and sort codes will remain the same. No-one's cards will stop working, the bank said. The cards will simply be reissued with a new name for the bank, in due course.
The sale was a condition of the government's bail-out for the bank, which is 39%-owned by the taxpayer.
Dominant
The UK's banking industry is dominated by five big names, which control 83% of retail (personal) bank accounts.
As well as Lloyds, RBS, Barclays, HSBC and Santander lead the field.
They have been variously caught up in a catalogue of scandals, including fixing the key Libor interest rate and mis-selling personal payment protection insurance (PPI).
Later this month, new rules designed to make it easier for people to switch accounts will come into force.
The TSB was set up around 200 years ago as the Trustee Savings Bank. It merged with Lloyds 18 years ago.
Lloyds is currently the UK's dominant personal bank account provider, but it will run the TSB as a separate unit until it is sold as a public company in its own right via the issue of shares next year.
'Sticky'
Some independent experts question whether the move will boost competition.
Shore Capital's banking analyst Gary Greenwood said: "TSB will be painted as a new challenger brand on the high street but I doubt that its pricing is going to be very differentiated to competitors.
"Current accounts tend to be very sticky and customers only tend to move if they have a really, really bad experience."
Mark Garnier, a Conservative member of the cross-party parliamentary committee on banks, also voiced doubt: "TSB is certainly not the answer. We want entrepreneurs to come into the marketplace and start opening banks."
Lloyds had been close to selling the business to the Co-operative Bank.
That fell through in April after concerns emerged over the Co-op's financial strength.
Mr Horta-Osorio stressed that TSB, which will be launched on Monday, was a "completely clean bank".
It had no legacy issues - such as a huge bill from PPI compensation - and had the same protection for savers as other High Street banks.